What Do Others Have To Say?
Links of Note
9/11 Many people outside New York didn't know there was a shopping mall under The World Trade Center. Mall failure history in general and especially the planned demolition of formerly successful malls leaves many feeling empty and sad. The attack and destruction of the WTC along with the mall and subway facilities underneath, purposely killing 3000+ innocent people in the process is not simply another sad, cold chapter in mall retail history. It's evil personified in tragically misguided zealots.
It's worth remembering what happened that day
---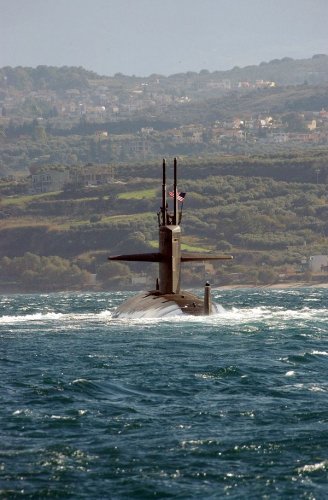 USS Memphis Honors Our City
Navy Newstand From Commander, Submarine Group 2 Public Affairs
According to Cmdr. Joseph Wiegand, deputy commander for Operations and Training for Commander, Submarine Development Squadron (DEVRON) 12, surge deployments differ greatly from regularly scheduled deployments.
"Surge deployments are made to support real-world taskings from combatant commanders," he said.
Memphis' surge deployment coincides with the scheduled deployment of USS Alexandria (SSN 757), also of DEVRON 12, and the surge deployment of USS Louisville (SSN 724) of Submarine Squadron 3 in Pearl Harbor, Hawaii. All three submarines deployed during the first week in May.
"This is a prime example of the high demand for submarine capabilities in operational theaters around the world," Wiegand said. "The combatant commanders count on our boats to engage with a range of different threats around the world. They rely on the inherent strengths of speed, persistence, firepower, and agility that only a submarine can provide."
Memphis returned from a scheduled deployment in November and has remained in a surge-ready status for the past six months.
"All submarines completing a deployment remain surge ready and in a high state of training," said Wiegand.
Over the past six months, the crew of Memphis and the staff of DEVRON 12 have trained closely with the newly activated Cell for Submarine Counter-Terrorism Operations (CSCO).
The CSCO continuously worked with Memphis in training for mission planning, special forces certifications, and presented real-time lessons learned from other currently deployed submarines.
"The nuclear-powered submarine continues to bring a lot to the table when it comes to the day-to-day operations in the global war on terrorism," explained Lt. Cmdr. David Kelly, deputy director of the CSCO. "Our submarine force has never been in higher demand than it is today, including in the heyday of the Cold War."
Kelly added that nuclear-powered submarines are unique in that they are the one platform that can conduct forward missions against threats from traditional naval forces as well as engage in missions against the more elusive and scattered terrorist threats.
Missions that fast-attack submarines like Memphis conduct in support of the GWOT include intelligence-gathering, surveillance and reconnaissance, information operations, strike operations and special operations forces missions.
This surge deployment is a part of the Fleet Response Plan (FRP), a program developed to change the way Navy ships deploy and to provide the United States with a greater range of naval options, adding the element of flexibility to naval efficiency.
The idea behind FRP is to keep the Navy ready to surge and to vary the lengths of deployments, meaning the Navy will be ready to deploy whenever, wherever.