LibertyLand
The City Administration
When the Mid-South Fair decided to shutter Libertyland and sell off most of its assets -- including the Grand Carousel and the Zippin Pippin -- the city of Memphis administration didn't bat an eye. If it weren't for grass-roots advocates like Save Libertyland -- which researched the ownership of the park's two most famous attractions and then lobbied both the City Council and the County Commission to claim them -- the Grand Carousel would have been sold, either as a whole ride or in pieces.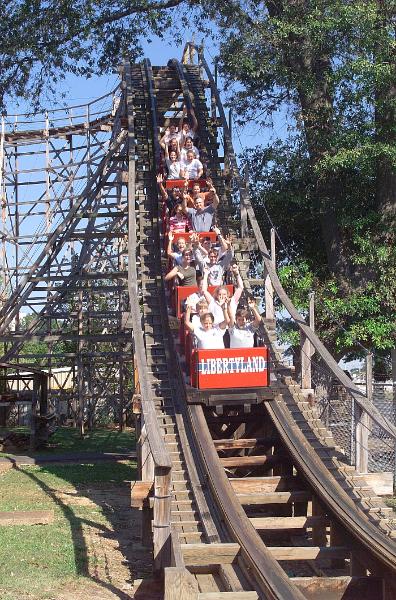 And even when confronted by evidence suggesting it owned the Pippin, the city decided not to pursue its interest in the roller coaster and allowed the Mid-South Fair to auction the ride. It now belongs to an amusement park in North Carolina and Save Libertyland is still working to keep it in Memphis.
The budget version of "real" theme parks like Opryland (wastefully turned into an outlet mall), Houston had agonized over the loss of Astroworld, their beloved theme park which fell victim to rising land values. Disneyland and scores of scores of others. Some are already claiming its demise on white flight, but those of us with any brain function know that Libertyland was in the hood when it was built, and that has bept NO ONE away. That hasn't changed one bit and since then if anything the area is improving. When Libertyland was built, it was full of such fairground classics as "The Old Mill" (a scary boad ride in a tunnel full of smakes pits..... ;)
A 12 year, Lacey, wrote this about the closing:
Vacant lots, empty buildings For Sale signs Sad, bored children Cry and fill the streets Looking for a thrill, A party, a place to Hang out with friends The scene will be Set for this chaos And sadness Without Libertyland.
and The Zippin Pippin, has been a part of Memhis for yeas. I rode it, my father rode it, my grandfather rode it. Hell, ELVIS rode it whenever he had the chance and had the park closed for him and his friends. Does Memphis see the value?? Most of us do, but not the ones who matter.
WORLD'S OLDEST OPERATING ROLLER COASTERS In operation at same location
1. Leap-the-Dips, Lakemont Park, Altoona, PA 1902 2. Scenic Railway, Melbourne, Australia 1912 3. Rutschbanen, Tivoli, Copenhagen, Denmark 1914 4. tie Jack Rabbit, Sea Breeze Park, Rochester, NY 1920 4. tie Scenic Railway, Dreamland, Margate, UK 1920 6. tie Jack Rabbit, Kennywood, West Mifflin, PA 1921 6. tie Roller Coaster, Lagoon, Farmington, UT 1921 8. tie Big Dipper, Blackpool Pleasure Beach, Blackpool, UK 1923 8. tie Zippin Pippin, Libertyland, Memphis, TN 1923* 10. Giant Dipper, Santa Cruz Beach Boardwalk, Santa Cruz, CA 1924 11. tie Big Dipper, Geauga Lake, Aurora, OH 1925 11. tie Giant Dipper, Belmont Park, San Diego, CA 1925 13. tie Wildcat, Lake Compounce, Bristol, CT 1927 13. tie Giant Coaster, Arnolds Park, Arnolds Park, IA 1927 13. tie Cyclone, Astroland - Coney Island, Brooklyn, NY 1927 13. tie Racer, Kennywood, West Mifflin, PA 1927 17. Little Dipper, Playland, Rye, NJ 1928 18. Dragon Coaster, Playland, Rye, NY 1929
Operated at another location prior to 1923.
Or this list from CNN:
Roller coaster records
Oldest operating roller coaster: "Rutschebahnen" - Tivoli Gardens, Copenhagen, Denmark Constructed 1913
Oldest operating roller coaster in the U.S.: "Zippin Pippin" - Libertyland Amusement Park, Memphis, Tennessee Constructed 1915
Longest roller coaster: "The Ultimate" - Lightwater Valley Theme Park, Ripon, England 1.42 mile (2.27 km) run
Longest roller coaster in the U.S.: "The Beast" - Kings Island, Cincinnati, Ohio 1.40 mile (2.24 km) run
Tallest and fastest roller coaster: "Superman the Escape" - Six Flags Magic Mountain, Valencia, California 415-foot (about 125-meter) steel support structure 100 mph (160 kph)