The Bass Pro Pyramid & Bait Shop
Only in Memphis could this story be told. Only in Memphis could this story be TRUE. Mark Twain and his stories of Mississippi river life were far fetched at times, but Memphis takes the cake for unbelievable situations.
The nonsense that makes up daily life in this part of Tennessee can be attributed to corrupt developers, corrupt politicians, corrupt business leaders. But even that does not explain the saga of The Great American Pyramid. The Pyramid is not a nationally known icon - like the St. Louis Arch....thankfully. But like it or not, it IS an icon of the city - it IS one of the first things you see when approaching from Arkansas or by air....
Only in Memphis would you find a city so desperate to unload a failed project so massive that the possibility of turning one of the most unique buildings in the country into a retail store would even be considered. And a redneck store at that! (I like Bass Pro, I are a redneck but facts is facts!).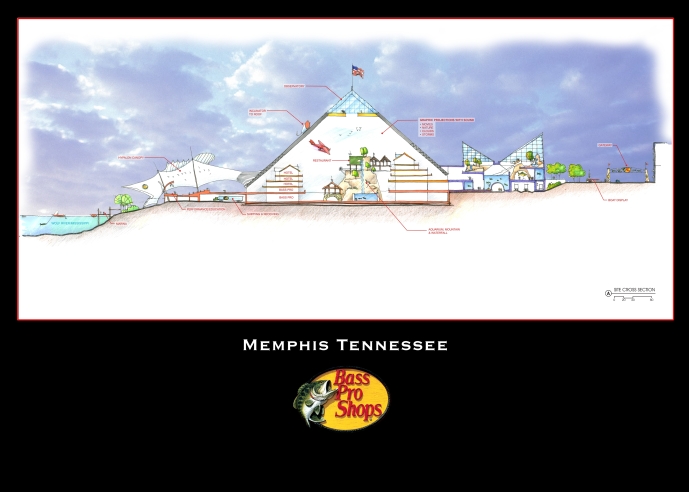 ---
BASS PRO UPDATE (August 8, 2007)
In a never-ending attempt to find a plausible use for this great building, we continue to try to woo Bass Pro into taking the Pyramid over and making it into some sort of tourist destination. We've allowed them more than enough time to make a decision, but it seems that we will continue to allow them up to January 31, 2008 to finally decide if they actually intend to sign a lease with the city. The letter of intent states that Bass Pro can walk away from negotiations at any time up and until this date and if the project moves forward, Bass Pro will only be spending $45 million rather than the original $75 million that had been announced in February 2006.
Robert Lipscomb, Mayor Herenton and Bass Pro officials could not be reached for comment and we can only hope that we have not lost the past 2 years waiting for something that may never take place.
---
BASS PRO UPDATE (January 2008)
It has come down to the wire for Memphis to await their January 31 for an official letter of intent from Bass Pro officials.... In the meantime a very viable proposal has come from a local businessman, Gary Ericson. They have approached the city before and were always shot down for unknown reasons by Mayor Herenton. This time they are proposing a solution that will not only help the city, the Pyramid and the Zippin Pippin. Their current proposal is to build an indoor amusement park complete with restaurants and a new home for the Zippin Pippin. The group who have spearheaded the resurrection of Libertyland has agreed that if approval can be granted for the Erickson project, the Zippin Pippin could be moved into the new theme park. (Funding for the moving and installation of the famed roller coster has not been worked out so far, but it would be a far better cry than having it sit forever inside the abandoned Libertyland park.)
Chief Financial Officer, Robert Lipscomb, still continues to play the waiting game with Bass Pro and still feels confident that if we can get Bass Pro to officially commit to build their megastore inside the Pyramid, it could also help build additional relationships with groups such as St. Jude, FedEx and Ducks Unlimited.
Since the Pyramid is such a part of the Memphis skyline and has such rich history with those who have performed there during its existance, it only makes sense that we strive to find a positive future use for this beautiful building. As the end of January approaches, we can only wait and see if Bass Pro finally signs a contract for the Pyramid property or if we have just wasted time waiting for something that never takes place.
---