Candlelight Weddings
4432 Mall Of Memphis Ste 1 Memphis, TN 38118-8407 (901) 366-6800
Getting Married At The Mall
East High School Alumnus Marries Frugally
August 25, 2002-The Commercial Appeal, Memphis, ran a story on August 24, 2002, pointing out that a number of people appear to be falsifying a document indicating they have had pre-marital counseling in order to save $60 on their marriage fee in Tennessee. The article points out there is no penalty for doing that. The article's headline is "Fib starts marriage for some in Shelby."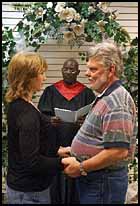 "Ron Isbell ['68], 52, was married this week but didn't cotton to the higher fee.
"The law is so easy to circumvent, he said, that 'it's an absolute joke. Only some slow-minded person would ever have paid the higher fee. I'm not slow-minded. I got married. I didn't pay mine (the higher fee).'"
A large photograph of Isbell and his bride appears on page one of the Metro section of the newspaper. The cutline is, "The toothless premarital counseling law is "an absolute joke." says Ron Isbell, united by Pastor Roy Sessom with Carol Manning at the Mall of Memphis's Candlelight Chapel."
Source: The Commercial Appeal
article from Eashhigh.org
Where you could just walk in and be married. The following was copied from a newsgroup posting in alt.support.mult-sclerosis
Married At The Mall
From: Kathi Matthews Date: Thurs, Oct 5 2000 12:00 am Email: kamatth...@aol.com (Kathi Matthews) Groups: alt.support.mult-sclerosis
Well Wentzel and I got married yesterday! It was pretty nice, considering the whole 2 weeks planning we put into it. We got the marriage license at the City Clerk's Office (which is in, of all places, the Mall of Memphis -- felt like I was going to Las Vegas). Then we went next door to the "Candlelight Marriage Chapel" which was actually very nice and not tacky. We got married by an AME minister.
We had four guests -- 4 of my best friends. I wore lavender and pink and my big fat ortho shoe that is protecting my foot (and my Gore-Lieberman pin!). We didn't want to have a zoo. Since I couldn't stand, Wentzel sat down next to me and we held hands while we recited the vows. Gives a whole new meaning to "in sickness and in health" and "as long as we both shall live." I kept thinking i wanted more time with him. We will take each day at a time. Cancer is a terrifying thing. But yesterday was a nice day. Two friends took us out to dinner afterwards. then we came home for our "honeymoon" at my apt!
A friend said we should go to a hotel. Why? There are about 15 hotel/motels literally right across the street, catering mostly to rich white businessmen. I have all my handicapped bars all over the place here and now two bars to get out of bed with and the sliding board. Why drag all that stuff across the street and back? It was so much nicer to sleep in our own bed. Kathi
JUST CALL IT THE MALL OF MARRIAGE
Commercial Appeal, The (Memphis,TN) - Wednesday, June 13, 2001 Author: Toni Lepeska lepeska@gomemphis.com
Between Dillard's department store and the Tilt game room, James Holt and Jerlean Fant were married.
They didn't fret over wedding preparations. It took the couple less than an hour to get a marriage license, flowers, music and a photographer.
Darrell Wilson and Teracia (pronounced ta-RACE-E-ah) McKinney also opted for a no-fuss wedding. They were married by the same bishop and were surrounded by the same white and deep pink imitation flowers. The location, inside the Mall of Memphis , didn't hinder them. In fact, it encouraged them.
``We kept putting it off and putting it off, said McKinney, 33, who'd been romantically attached to Wilson for five years. ``Once we got back together, we decided to go ahead and do it. The location was convenient for us.
Candlelight Weddings opened beside Dillard's on the lower level of the Mall of Memphis in October. Convenience for its customer base was just what Kiva Davis Akoto and partner Rosaland Able had in mind with the site.
Three months earlier, the Shelby County Clerk's marriage license bureau had relocated a satellite office to the mall from Carrefour at Kirby Woods shopping center. Candlelight Weddings had been a few doors down from the office at Carrefour about three years.
``I had some concerns about Memphis catching on, getting married in a mall,'' Akoto said. Her concerns were eased as couples started getting married.
Akoto and Able were students at the University of Tennessee at Martin when they began to dream about going into business together.
They had coordinated the weddings of several friends and acquaintances, so after college they opened their first ``Vegas-style'' wedding chapel. Candlelight Weddings opened in 1992 at 100 N. Main downtown. (Akoto, 39, was married there four years ago to husband A. J.)
At Candlelight Weddings, now at the mall, ceremonies start at $60, plus tax, and go up to $600 for a wedding with 100 guests. Rows of white foldup chairs there wait for such an occasion.
Couples often call for an appointment. They get to the mall, obtain a $45 marriage license, then walk a short distance to Candlelight Weddings, decked in white bows and netting.
The business will accept walk-ins, and regularly gets them. There's no waiting period here for couples 18 years old and older to get a license.
Akoto estimated that 200 to 300 people have been married at the mall since Candlelight Weddings opened there.
Candlelight Weddings, which always has one of five ministers available for walk-in weddings during business hours, offers premarital counseling.
``We don't take it lightly, Akoto said. ``We're very serious about this business.
Of 3,286 marriage licenses issued by the Shelby County Clerk's office through May, 2,182 were issued at the Mall of Memphis office. The others were issued at the downtown office and at Millington City Hall, the other marriage license offices in the county.
On Friday, two more licenses were issued at the Mall of Memphis . Both couples walked in to Candlelight Weddings.
Wilson, 35, wore slacks, a long-sleeved shirt and a tie. McKinney, 33, wore a bright red dress and brought her son, 10-year-old Ronny Rankins.
Holt, 51, wore a black cowboy hat and T-shirt. He chewed gum during his vows. His bride, Fant, 53, wore a multicolored dress with orange the main hue. They did not exchange rings. They held hands while Kenny G's Forever In Love played.
For Holt, the location let him skip a dressed-up church.
``I ain't for that standing up,'' he said.
- Toni Lepeska: 529-2526