Cinema Grill Cafe
This restaurant was inside the Cinema and was enhanced during one of the old mall's renovations. On July 21, 2001 Cinema Grill, an Atlanta-based movie theater company that combines dinner and a movie, will remodel the former General Cinema at the Mall of Memphis and will open early this fall. The concept gives moviegoers table space in front of their seats for refreshments and offers an extensive menu that includes pizzas and signature sandwiches.
For more on the Mall of Memphis cinema, visit cinema.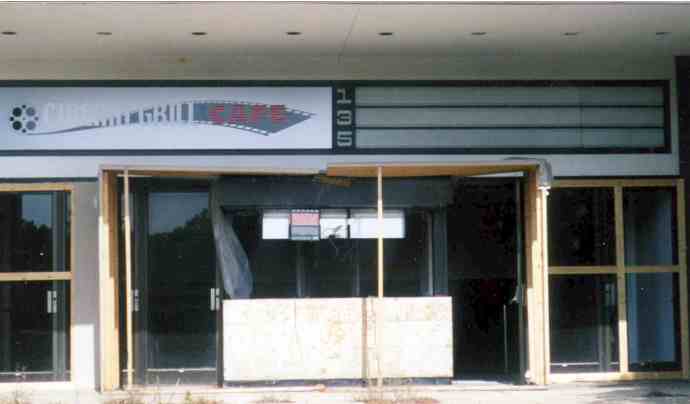 What is a Cinema Grill?
The concept for a Cinema Grill is believed to have started in 1975 in Orlando, Florida. You can find Cinema Grills in everything from the old movie palaces from the golden age of cinema to strip mall cinemas. Like retail itself, some are wildly successful and some never get their footing. Cinema Grills are a common method of revitalizing cinema spaces in troubled locations by offering a much different "going to the movies" experience. Dinner and a movie - at the same time.
It's unclear if the Cinema Grill at The Mall of Memphis ever actually opened - if you know, please update this page.
A Cinema Grill will typically be much more spacious and comfortable as they seat less than half of a typical multiplex theater. The extra seats are removed and replaced by tables and aisles large enough for the serve staff to get in and out with orders, food trays, refills, etc. Notice in the Mall of Memphis Cinema Grill picture above that two of the original five screens had been absorbed into the other screens to make room for the extra tables, etc. (Only screen One, Three and Five remain on the marquee).
They are not just a way to save old movie houses though - ICSI - The International Council of Shopping Centers sees them in upscale versions as part of the future of shopping centers.
These pictures below show Cinema Grills in other cities that did prove successful.