Mall of Memphis Closes
(press) "The Mall of Memphis will be closing down at 6 p.m. Christmas Eve after 22 years in business. The closing is reported to be for many reasons and one being crime had given the mall a bad image. The mall had been declining since the mid-1990s."
December 24, 2003, Christmas Eve. Closing day for The Mall of Memphis. In this photo taken on that last day, you can see that even before the doors were locked at 6pm, the Mall was already really gone. Just a few cars clustered around the main entrance and the Ice Chalet doors, people getting in their last chance to ice skate in Memphis.
On Christmas Eve, this little crowd was all the great Mall of Memphis could muster with it's 13 remaining stores. As the last worker walked out and locked the door, the reign of the mall was over.
The mall stayed closed, locked and quiet for the next seven months, then the news: the new owners wants to demolish it.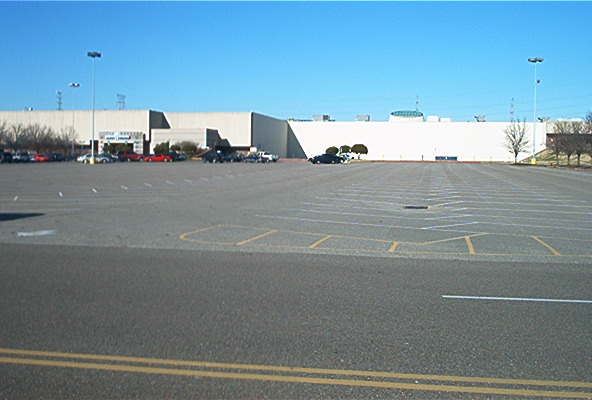 .