Happy Hal's Fun House
For young Memphians of the 1960's there was one good reason to hurry home from school, Happy Hal's Fun House! The show featured cartoons such as Sinbad Jr., The Mighty Hercule and Popeye along with live action comedy such as the Three Stooges and the Little Rascals.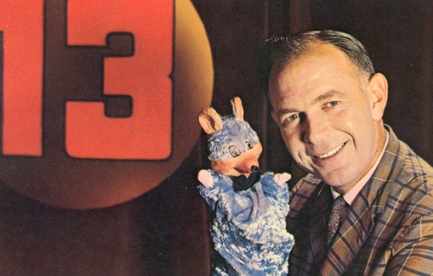 The host of the show, Harold "Happy Hal" Miller introduced the cartoons, entertained the live audience with two sock puppets named 'Lil Bo and Monkey and hawked toys from Happy Hal's Toytown. The toy store became a regular feature with products like the "Baseball Glove that Never Misses" and "Sixth Finger" (a plastic finger that would shoot spring-loaded darts), but the store was not the reason for the show.
References
This page is copied from MemphisHistory.org, a site that details Memphis history to a depth you may not have known existed! We love it! They offer a download of some of the cartoons shown then too.
Your MallofMemphis host remembers wanting to win the 5 minute all the toys you can get in a basket contest - never did.