JC Penney
2-level department store at the Mall of Memphis. They had a beauty salon, as well as an optical center. The old address for the service and phone number is listed below.
20 20 Advantage @ JCPenney Optical - Mall of Memphis
4542 Mall Of Memphis, Memphis, TN 38118
(901)794-6228
---
On October 15, 2006 - a contributor from 172.145.184.136 added an interesting photo from the website of Allen & O'Hara Construction, related to J.C. Penny at the Mall of Memphis. It shows a building picture from the construction company that built the J. C. Penney building at the mall - but it shows a corner entrance that does not look familiar. Was this photo actually from the mall, and shows a feature that was later removed, or did the construction company just use a generic photo that was representative of their work? Thanks for the add!
Store Expansion
Project: J.C.Penny's - Mall of Memphis
Memphis, Tennessee
Description: - Retail Store: two stories, 160,000 square feet.
- Performed building excavation, concrete work, carpentry, miscellaneous iron, and specialties with our own forces and supervised all other subcontract trades.
- Project completed on time and within budget.
Amount: $4,664,206 Dates: October,1980-November, 1981 Contract: Lump Sum with a Fixed fee Architect: Law/Kingdon, P.A. 313 South Market Wichita, Kansas 67201
---
NOTE: Yes, this was an actual mall picture. It was the entrance that faced Toys R Us.
Kuri comment: I would agree. Looking at satellite views, there is an odd area at the north-east corner of the building that could have been the leftovers after this structure would have been removed.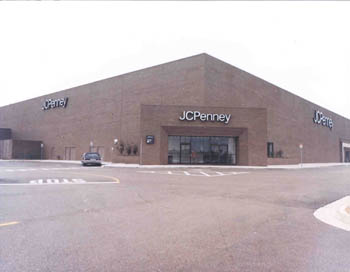 y
---
LAST ANCHOR, J.C. PENNEY, LEAVING MALL OF MEMPHIS
Commercial Appeal, The (Memphis, TN) - Saturday, September 22, 2001 Author: Jerome Obermark obermark@gomemphis.com
The J.C. Penney store at the Mall of Memphis announced Friday it will close Nov. 29.
The 123,000-square-foot store is the southeast Memphis mall's last anchor tenant. Dillard's announced this year plans to close its two store locations by late October.
The once popular mall, which opened in October 1981, will be left without a major draw during most of the busy Christmas holiday shopping period.
Repeated calls to the Mall of Memphis management office Friday were not returned.
But Tim Lyons, J.C. Penney spokesman, said the decision to close the store was based on its past performance and future expectations. It has about 200 employees, he said.
"We review all stores on a regular basis," Lyons said. "The company's overall performance hasn't been up to expectations for the last few years."
J.C. Penney will be left with two Memphis stores, an anchor in Wolfchase Galleria and an outlet store in Raleigh Springs Mall.
"There are no plans currently to close additional stores in your area," Lyons said.
He said some of the affected employees may be transferred to jobs at other area J.C. Penney stores; others will receive severance pay.
The Mall of Memphis , south of Interstate 240 and just west of Perkins, was the premier local mall when it opened nearly 20 years ago. But it has declined in popularity for much of the past decade as newer malls opened and the nearby population shifted.
Service Merchandise, another anchor store, closed in 1999. That year, California-based American Mall Properties LLC acquired the mall and initiated an $18 million renovation project - including interior and exterior lighting and an expansion of the Ice Chalet.
Dillard's Inc., a Little Rock-based department store chain, in February announced plans to close both its Mall of Memphis stores, citing declining customer traffic at the stores.
The two Dillard's stores occupy more than 300,000 square feet.
Plano, Texas-based J.C. Penney has more than 1,000 stores in 50 states and Puerto Rico. Nearly 800 of those stores are in malls.
The 99-year-old department store chain, one of the nation's largest, has been paring underperforming stores for three years, Lyons said.
It announced plans in January to close 47 stores nationwide this year, but it didn't identify all of them at that time, Lyons said. Memphis was part of that list.
Last year, Penney's closed about the same number of stores, he said.
The company also announced that it would open 14 stores and refurbish and update about 100 stores this year at a cost of $340 million.
J.C. Penney is focusing its capital resources where it is expected to achieve the best returns, Lyons said.
- Jerome Obermark: 529-2320
---
My mom worked for the MoM Penneys during the holiday seasons of both 1989 and 1990 in the fancy women's dress section to help out with our family finances during rough patches. She came home exhausted after long hours but still said she had a great time working there. -Amanda