Multiple Corpses Found at Mall Site
The malls reputation as the "Mall of Murder" continues even after the mall has been demolished. In July 2006 two bodies were found in the fields surrounding the old mall site. The reports and video clips below are copyrighted by their respective producers, as noted.
Click the picture to view the report...
---
Part of Mall of Memphis Remains Identified
Posted By Daralene Jones
Memphis -It's a double murder mystery, remains of two women, one black, one white, scattered around the old Mall of Memphis site. Police spent days searching 93 acres of land, trying to salvage what they could, trying to figure out who the women were and how they ended up there. They now know part of the remains belong to 49-year-old Kathy Jean Higginbotham. "The Shelby County medical examiner ruled both the deaths a homicide due to multiple stab wounds to the abdomen and chest," Lt. Toney Armstrong says.
More than eight months ago, in November of last year, Higginbotham's daughter filed a missing person report. A few weeks earlier she had dropped her mother off at the intersection of Perkins and Knight Arnold. She says Higginbotham was headed to a home in the area where she did health care work. And that's the last time anyone saw her.
Since then her picture's been plastered on just about every missing persons website. Police are still trying to figure out who the other remains belong to. They were able to easily identify Higginbotham after inquiring calls from family members about the remains. Investigators do believe both women may be connected to the same crime. They were both killed in the same way and found in the same area.
If you have any information about this crime call CrimeStoppers at 528-CASH. Police also need help identifying the other woman found.
http://www.wreg.com/global/story.asp?s=5179069
---
Police identify one set of skeletal remains
July 20, 2006 05:17 PM
Memphis Police have identified the remains of one of the women found on the grounds of the former Mall of Memphis.
Detectives said Thursday that someone murdered Kathy Higginbotham. Higginbotham had been missing since October of 2005.
Officers combed the now vacant field near Perkins and Showplace Wednesday afternoon. The bodies of two women were discovered there last week. Late Thursday afternoon, police ruled Higginbotham's death a murder. Authorities have not yet identified the remains of the second woman, but said she was stabbed to death.
If you have any information that can help solve this murder mystery, call Crimestoppers at 528-CASH.
http://wmctv.com/Global/story.asp?S=5178246&nav=menu59_2
---
With help of recruits and dogs, police investigate two deaths
By Chris Conley Photos by Karen Pulfer Focht/The Commercial Appeal
July 20, 2006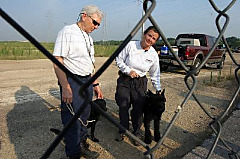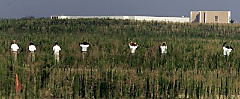 Police recruits help the homicide squad search 95 acres at the old Mall of Memphis on Wednesday for clues on two bodies found in the fields last week.
Deborah Burnett (right) was training her dog Elmo at the old Mall of Memphis property when they ran across one of two bodies found there last week. They, along with Ed Appel and his dog Sam, were on hand Wednesday as police searched the 95-acre mall site for clues to the deaths.
Search dogs Elmo and Sam, along with about 30 Memphis police recruits, endured knee-buckling heat Wednesday to search for bodies at the old Mall of Memphis site.
Police are investigating the deaths of two women whose skeletal remains were found there last week, and decided to search the entire area -- 95 acres covered with 3-foot weeds and shoots.
The first set of remains was found south of Interstate 40, north of Showcase Drive, by a contractor cutting the grass.
A second set was found -- close to where the first victim was found -- on Friday afternoon.
The first victim was killed by stabbing and her death has been ruled a homicide. Police could only describe her as a black woman. No word yet on what happened to the victim found Friday.
To make sure there are no other bodies lying in the weeds, police organized a grid search, employing 30 recruits and search dogs Elmo, a giant schnauzer, and Sam, a black Labrador retriever.
Early Wednesday morning, water bottles in their pockets, the white-shirted recruits steeled themselves for the task.
Forming a line, they cut swaths through the weeds, heads down. By 8 a.m., one hour after the search began, the temperature was 86. Most of the recruits were wringing wet.
"We only have a little time, because of the heat factor," said Deborah Burnett, a member of the Tennessee Task Force One and handler for Elmo.
Once search dogs get overheated and start panting, they can't pick up a scent as well, she said. "You have to watch them," she said. The dogs will keep moving even after they are tired and hot, but their effectiveness quickly deteriorates.
Burnett said she was training her dog on Friday at the mall site, getting ready for the hurricane season, when "Elmo picked up the other body," she said.
By Wednesday afternoon, no new evidence had been found.
Homicide detectives were awaiting findings from the medical examiner's office that could tell them who the victims were and where they lived.
Chris Conley: 529-2595
http://www.commercialappeal.com/mca/local/article/0,2845,MCA_25340_4856469,00.html
---
Police Search for Clues in Mysterious Deaths
Posted By Annie Kim
MEMPHIS, TN - The sweltering heat didn't keep police from doing their job. Cavader dogs were brought out to American way and Lamar. That's where the remains of two women were discovered last week. The obstacle in the way today was the scorching heat.
The search started around 7:30 in the morning, everyone involved hoping to finish the job before the temperature reached triple digits. About 30 police recruits were assigned to search about 100 acres of wide open grassy land where the mall of Memphis used to stand.
The recruits wore white t-shirts and hats to deflect the sun. Each of the recruits carried a bottle of water. A black labrador, Sam and Elmo, a giant schnauzer are a part of the search team. The two cadaver dogs will have to work some over time today; to prevent the dogs from overheating their trainers say they have to stop the search sporadically to cool them down.
"We have to keep them maintained, they could run past a human if they are panting and not breathing in the air and smelling, if they are just trying to stay cool," said Trainer Deborah Burnett with the Tennessee Task Force. Elmo is the one that found the second skeletal remains on Friday.
The paramedics were standing by as a precautionary measure. E.M.T Erik Beasley said heat related calls have kept him busy this summer. They're ready to help out at a moments notice.
"We're going to get in the back of the ambulance here, in the air conditioner, get them cooled, give them some fluids," said Beasley.
The two remains have not been identified yet. Authorities have determined both are women and that one was an African-American woman in her 50's.
---
Police conduct grid search on former Mall of Memphis grounds
July 19, 2006 05:21 PM
Memphis police took new steps Wednesday to solve a pair of mysterious murders. Last week, on separate days, skeletal remains of apparent murder victims were found on the grounds of the former Mall of Memphis.
The site of the former mall covers 95 acres, and on Wednesday morning, Memphis Police set up a grid search to look for additional evidence after last week's findings. Memphis Police Lt. Toney Armstrong said police were looking for, "Any and everything that does not grow in that field."
Both bodies that were found last week were women, badly composed, and one of them was apparently stabbed to death. Officials said the searchers hoped to find more evidence in those cases, not necessarily additional bodies.
"We have no reason to believe there are additional bodies out here, but this is one way to eliminate that," Armstrong said. "We want to make sure."
Recruits from the Memphis Police Academy were instructed to stay together and use their feet and hands to feel for anything unusual.
"We've come up with a plan to make sure we're not duplicating, walking back over land that's already been covered," Armstrong said.
Police have increased patrols in the area since the bodies were found, and are asking the property's owner to mow the grass and fix holes in fencing that surround the grounds.
Officials ask anyone that has information in the case, or that can identity the second body that was found, to call Crimestoppers at 528-CASH.
---
Unclear how long bodies were there
By Sherri Drake
July 15, 2006 Investigators found the remains of another body Friday near the site of the old Mall of Memphis, just two days after a woman's remains were found in the same area.
Friday afternoon, Memphis homicide and crime scene investigators and officials with the Shelby County Medical Examiner's Office searched the area near Perkins and Showplace, where the first skeletal remains were found.
The area is just north of the mall's old site.
Friday, officials recovered about 90 percent of the remains of another body, which also appears to belong to a woman, police said.
Wednesday, a contractor cutting grass at American Way and Perkins discovered the bones of a woman who'd been killed.
Police believe that victim was a black woman, 35 to 50 years old. She'd been stabbed.
The medical examiner's office Friday hadn't completed forensic work on the first skeletal remains.
Investigators also hadn't determined a race, age or cause of death for the remains found Friday.
Police haven't ruled the latest finding a homicide, but if they do so, it would be the 97th this year.
It's unclear how long both bodies had been in the area, and police were working to find out when the grass was last cut.
Since Wednesday's discovery, investigators have been poring over missing persons records for clues.
Got information? Call Crime Stoppers at 528-CASH.
-- Sherri Drake: 529-2510
Credit - Commercial Appeal
http://www.commercialappeal.com/mca/local/article/0,2845,MCA_25340_4846111,00.html
---
Police continue to investigate remains found near former mall
July 17, 2006 09:44 PM
Bodies Found at Mall: Kontji Anthony
After the discovery of two skeletal remains hidden in overgrown weeds at the old Mall of Memphis, neighbors want to know who's working to curb urban decay around the city.
Without a building on site, code enforcement for the old mall falls under the Health Department. They have no complaints on file for overgrown grass, but that doesn't mean the site is without problems. It appears someone cut their way through the fence to gain access to the property and on the land, some of the weeds stand more than five feet tall.
Neighbors like Hank White are not surprised by last week's discovery on South Perkins and Showcase. "I try to stay in at night and don't get out too early in the morning," he said. He says crime comes with the territory. "I'd rather limit my life than gamble my life."
The crime scene falls inside City Councilman Scott McCormick's district. "We're constantly issuing citations for people to clean up their property and we'll even go out and cut their property if they don't follow the citation," McCormick said.
Memphis charges property owners if the city has to send out a crew to clean up blight.
This week city leaders are having their first meeting to keep sites like this from becoming a dumping ground. "We're involved in an economic development plan that we're working on that would be citywide to encourage more growth within the city that should resolve some of these problems of blight," McCormick explained.
White hopes for change. "I hope somebody does something about it, but it's been going on for quite a while," he said.
The city hopes to have a plan by November. Meanwhile, the Health Department is sending inspectors to the site Tuesday to make sure it's safe.
According to Register of Deeds records, Memphis Mall Holdings out of Atlanta owns the property. They phone they didn't know anything about the skeletal remains and they'll look into the problem.
---
Skeletal Remains Found at the old Mall of Memphis site
MEMPHIS - The sun has literally set on the old Mall of Memphis. Nothing is left here. Just remnants of an old bustling shopping center.
And in the middle of a field of overgrown weeds and power lines, a man cutting grass found Memphis murder victim number ninety-six.
"He indicated he was riding a tractor he ran over something he looked back he saw what appeared to him to be skeletal remains," says Sgt. Vince Higgins of the Memphis Police Department.
Forensic tests show the woman had been stabbed.
Now James Ward Jr. who works in one of the few stores left around here says this is the last things this area needs as it tries to turn itself around. "That's really sad, that's sad. This is our day and time, it's sad," says Ward.
The medical examiner hopes dental records will help identify the body. They don't know how old she was, her race or how long she'd been in this empty field.
That's why police are asking for your help to crack this "Jane Doe" mystery. "We're trying to find out if she died there or she was brought there from another location," says Higgins. "That's still under investigation."
If you have information on the case call CRIME STOPPERS AT 528-CASH.
http://wreg.com/Global/story.asp?S=5149220
---
Skeletons Unearthed Twice in a Week
Posted by Stephanie Scurlock
July 16, 2006 05:39 AM CDT
MEMPHIS,TN- What lies beneath the old Mall of Memphis is scary for those visiting the few businesses left in the area. It's a real life C-S-I. Jacqueline Betts was shopping in Parkway Village this Saturday. She says, "It's kind of spooky being this close and everything."
Twice this week human skeletal bones have been found near the old mall area. Police believe both are women. The one unearthed Friday police know little about. A forensic scientist believes the skeleton discovered Wednesday is an African American woman about 50 years old who may have been stabbed.
For two hours early Saturday morning Memphis police ran cadaver dogs across the grassy land looking for other signs humans might be buried there. They found nothing. The entire ordeal bewilders some long time residents. "It's horrible what I don't understand is I drive through there some times and I see the gates locked. How did they get in there," questioned Samuel Woods.
News Channel 3 surveyed the property and found there is a fence around the area but there are a number of ways to get inside. A several places the fence is cut. Some holes are large enough to drive a car through them.
Some residents believe a stronger police presence is needed to prevent the vandalism and the crime. "There's an area that's not occupied. The maintenance over there is horrible. There needs to be something there if nothing else just a nice park. I think would be nice for that area,"says William Ross.
Neighbors say it's an eyesore an if you leave the property unattended you're inviting people to use it as a dumping ground for anything they want, even human bodies. Homicide detectives say they'll bring in the cadaver dogs to conduct another search of the property next week. They say the dogs have a tough time working in this Memphis heat.