| | |
| --- | --- |
| | The Libertyland Gate | | The Libertyland gate area on Feb 7, 2010 |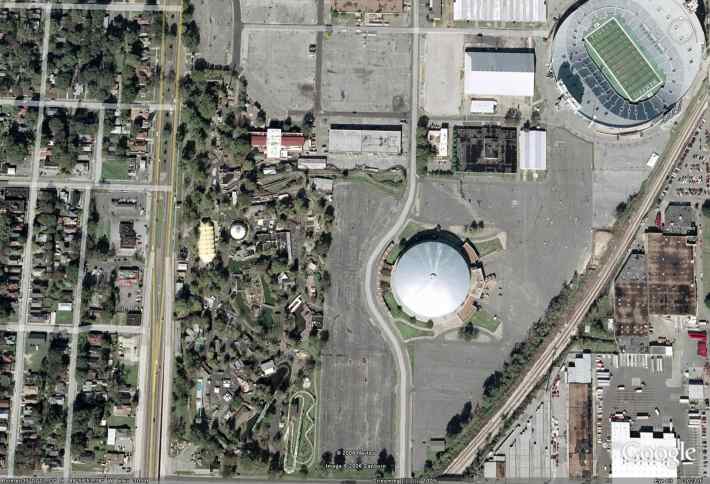 "Save Libertyland" says vandals and theft are diminishing last-ditch efforts
Jan 29, 2007 05:19 PM
Members of a group fighting to save Memphis' only amusement park made another push today.
The people who want to save Libertyland are running out of options. If they have any hopes of saving this amusement park, they say the time is now.
Steve Mulroy with the group "Save Libertyland" says there has been extensive damage to the property by way of vandalism and theft.
He says T-Rex Amusements out of Wichita, Kansas still wants to buy Libertyland, but wants the city of Memphis to repair the park first.
Mulroy says it'll cost the city around $800,000, but believes it will pay for itself in five years. He says the deal with T-Rex would bring $5 million to the city and would provide 500 summer jobs.
He thinks it all makes economic sense. But, it's what the City Council and the Mayor think that matter in the end.
"If we do not have city approval on the deal in the next week or so, then Carolina Crossroads will begin to move the Pippen and if we lose the Pippen then T-Rex would not be interested in the deal," he said.
The Pippen is the "Zippen Pippen," Elvis' favorite roller coaster, which was bought by Carolina Crossroads. Council members E.C. Jones and Myron Lowery want the city to pay to repair the park.
Now, even if the council approves the funding, the mayor can veto it. Mayor Willie Herenton wants to build a new football stadium next to the park.
Mulroy thinks if it comes down to it, the Mayor will pick the new stadium over restoring Libertyland.
We tried to contact Mayor Herenton, he had no comment. The council meets next Tuesday.
http://wmctv.com/Global/story.asp?S=6006539
---
May 24, 2007
Henry Turley has announced that he would like to develop the Mid-South Fairgrounds area and is trying to win legislative approval to use sales tax money to help finance this project. He would like the state legislature to designate the Fairgrounds area as a "tourist development zone" which would allow sales tax revenue collected from this new project to be plowed into public projects on the site - including renovating the Liberty Bowl Memorial Stadium. (Unfortunately, there was no mention what the future might hold for Libertyland.)
--- Richard Locker
---
LIBERTYLAND AUCTION ENDS AN ERA - 6/21/06
Memphis , TN –The amusement park that Elvis used to rent for he, Lisa Marie, and his Memphis friends and family is no longer. Libertyland opened during our country's 1976 bicentennial and operated for over a decade, but experienced huge annual losses. The park was sustained through the support of the adjacent Mid-South Fair, which is celebrating it's 150th year.
Despite temperatures in the mid-90's, with humidity to match, over 300 potential buyers, from 17 state and Canada , attended the four-hour auction. The auction was conducted under the auspices of Norton Auctioneers who are based in Coldwater , Michigan and specialize in the auctions of amusement parks, carnivals, circus', carousels, museums, zoos, Western towns, and theme parks.
Prices realized included a Fabbri Kamikazi ride for $187,000; a Chance Wipeout for $99,000; an early Allen Herschell Iron Horse Train (with broken axle) for $22,000; an old Tilt for $11,000; and a kiddy Pirate Ship for $9,000.00. Various kiddy rides sold from $3,750-$12,500, and an Arrow Corkscrew Coaster (permanent) went for only $55,000 to a new home in Pennsylvania . The Fabbri Revolution Drop Zone sold for $170,000 and a portable rock climbing wall was bid off at $10,250. A set of seven early 1970's Gould Turnpike gas Model T replica cars fetched $15,400.00.
A domed tent-like structure went for $11,000, various inflatables from $2,500-$4,000, and 1970's bumper cars at $8,800. The famed early 1920's wood coaster, "The Zippin Pippin" (plus parts), which would be nearly impossible to dismantle and re-erect, sold for $7,900.00. A Chance Sea Dragon found a new home at $61,000.00.
http://www.nortonauctioneers.com/results.htm
---
---
---
Links
Remember Libertyland - Great site with lots of pictures of the park.
---
The Zippin Pippin (pic below) was America's 2nd oldest operating wooden roller coaster. It was the favorite coaster of many people, including Elvis Presley. It was built in 1912 but was moved to its location in the park in 1923. The ride is listed with the National Register of Historic Places.
With vision and care, this landmark joins Lost Memphis as well.
CLOSED FOREVER - LibertyLand/Mid-South Fairgrounds - Located at Central & East Parkway. Memphis' Patriotic amusement park. Three live musical shows, two sit-down restaurants, 18 rides, games, shops, food stands and authentic historic attractions.
Open weekends in Mid- April, Saturday, 10am-9pm and Sunday, noon-9pm. Open daily except Monday in mid-June; Tuesday through Saturday, 10am-9pm and Sunday, noon-9pm.
Weekend schedule resumes late August through Labor Day. Open during Mid-South Fair (last two weeks in September). Closed October through Labor Day. Open during Mid-South Fair (last two weeks in September).
Closed October through March. Gate admission $6 (children 3 and younger free)-Includes all children's rides, some adult rides, shows and special events. Senior citizens (55+) $2. Additional tickets for adult thrill rides, $6 each. Twilight adventure (after 4pm) $3. Credit cards accepted. Handicapped accessible. Phone: (901) 274-1776.