Pyramid Dreams: Pyramid Schemes
How did Sidney Shlenker's Promise Die?
The Commercial Appeal October 18, 1992 By Louis Graham
Pyramid Dreams - Part 1 Pyramid Dreams - Part 2 Pyramid Dreams - Part 3
Sidney Shlenker faced his anxious employees with evidence of salvation in hand.
He unfolded a one-page letter, apologized for the hardship and uncertainty, then began to read aloud. The letter confirmed Shlenker had landed an $80 million loan.
Cheers, even tears of relief, burst from many of the 30 employees at The Pyramid Companies office on that May morning last year.
Shlenker rushed off to deliver the letter to Mayors Dick Hackett and Bill Morris. The city and county mayors had been exuberant allies, but as one promised loan after another fell through, they had grown impatient and cynical.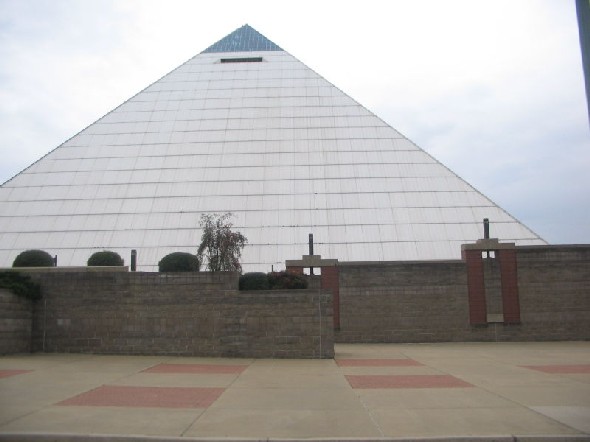 The loan was big news in Memphis. For 25 months, Shlenker - his dealings with local government, his plans for the pyramid arena and Mud Island and his own personality - attracted constant media attention. He appeared in this newspaper 92 times in 1990 alone. Even his lost dog was news.
Until today, many details, including the story of that loan, have not been told. The critical events and bitter confrontations that shaped the outcome of an unparalleled deal between the city, county, Shlenker and his partner John Burton Tigrett took place well out of public view.
This is the behind-the-scenes story of Shlenker's rapid rise in public stature and his dramatic crash.
Shlenker's meeting with anxious employees on May 28, 1991, was one of his last public acts before disaster. Two months later, his company and its promises crashed into a Chapter 11 bankruptcy, owing more than $16 million and holding 200 creditors at bay.
He was desperate. The loan meant survival of his company and its plans to turn a pyramid-shaped basketball arena and adjacent Mud Island park into a national tourism magnet.
His intoxicating overnight celebrity in Memphis had given way to the despair of deep financial trouble and a brawl with Tigrett. The city and county wanted both men out of their celebrated partnership with taxpayers.
Desperation had led Shlenker to Las Vegas and into the grasp of a man Nevada authorities viewed as a notorious con man. Shlenker did not know that at the time of his announcement. But the loan never arrived.
Shlenker, unlike other businessmen who desperately needed financing, had not paid an advance fee for the loan. So he lost no money, only precious time.
He had not always been so lucky. Earlier, when much of Memphis focused on the headlines of how his partnership was unwinding, Shlenker and a small group of Memphis investors paid a $200,000 loan commitment fee.
That loan never arrived, either.
Shlenker went to the FBI, where the case is still under investigation.
Memphis's hopes for a riverfront revival had burned brightly. But one such event after another began to dim the light.
Tigrett and Shlenker had chased a dream, together at first, separately after their feud broke out in public.
Their plan could have worked.
It didn't.
SIDNEY Shlenker.
Just the sound of his unusual name troubled the irascible John Tigrett at first, in November 1988.
John Tigrett did not know him personally. He was only a friend of a friend. But he was majority owner of the Denver Nuggets of the National Basketball Association. That took money. That was salve enough.
Tigrett needed someone with money to adopt the pyramid project he had ramrodded into existence just four months before.
Known as little more than a wealthy socialite in Memphis, his home for years, Tigrett had pulled a coup by winning public funding for a 321-foot-tall pyramid on the Memphis riverfront. When others had pushed the idea of building a pyramid, local politicians had listened politely, then put the drawings in a corner and forgotten them.
They could not ignore Tigrett. If only by association, Tigrett had power and wealth. He was a board member of Federal Express Corp., Memphis's largest employer. His wife, Pat Kerr Tigrett, was a successful designer and a member of the city's social elite. His friends included some of the world's richest men.
Tigrett pushed the project through the cumbersome city-county funding process with a simple pledge: If taxpayers would pay to build the pyramid, he would deliver a $10 million private investment in restaurants, two museums and a unique ride to the top.
He called it a turnkey deal: A private company would build the structure for a guaranteed amount, originally $39 million, then hand the keys to the city and county mayors. He'd even throw in the balloons for the grand opening.
Though Tigrett forged the deal, his name did not appear on the contract requiring the private investment. That responsibility fell to his son, Isaac Burton Tigrett, the colorful, eccentric co-founder of Hard Rock Cafe International Inc.
Promise of that investment and a Hard Rock Cafe, with its cult-like following, pushed the project over the top with a 7-to-4 vote of county commissioners.
Soon after, the Tigretts pursued a second deal, one that was not publicly disclosed and that made it difficult to deliver on the first.
Ultimately, this second deal - the August 1988 sale of Hard Rock Cafe International - led John Tigrett to Sidney Shlenker and changed everything.
Soon after striking the pyramid deal in Memphis, Isaac Tigrett walked away from Hard Rock with an estimated $32 million.
But he also walked away without an agreement from the new owner to follow through on his plans in Memphis. British restaurateur Robert Earl wanted nothing more to do with John Tigrett after the sale negotiations.
Isaac Tigrett salvaged the pyramid deal without a long legal fight by buying a franchise from Earl. His father didn't like it. John Tigrett viewed the $2 million franchise price, twice the going rate, as blackmail.
But Isaac's deal kept the pyramid project alive.
THE franchise deal, in effect, prevented John Tigrett from playing any role in the Memphis Hard Rock venture. That put him in a corner.
The city and county expected the first architectural drawings in 90 days. With Hard Rock under someone else's control, he had no company prepared to make the $10 million investment.
Tigrett, then 76, turned to a friend.
A. Jerrold Perenchio had struck gold as co-creator of the television show All in the Family. Showy, even by Hollywood standards, he had a circle of wealthy friends. Tigrett had met him through a mutual friend, singer Andy Williams, and maintained a friendship for years.
If anyone knew someone who could help, it would be Perenchio. Tigrett phoned him with a plea: Send me your best Barnum.
Someone came to mind.
Perenchio's call found Shlenker home in Denver, on the couch watching football. They had known each other for years, since the overhyped tennis match in The Astrodome between Bobby Riggs and Billie Jean King. Shlenker was dome president, Perenchio the promoter.
He had a friend in Memphis, a real Southern gentleman, who was, unbelievably, building a pyramid, Perenchio said. His friend needed help.
The proposition gave Shlenker a place to land. The Nuggets had proven very expensive, and within months, they would be sold.
It also tweaked Shlenker's fascination with the offbeat. Few public buildings since The Astrodome could compare with it: 321 feet tall, its base covering six football fields, a 2,100-ton steel frame and 2,800 truckloads of concrete, wrapped in eight acres of stainless steel.
The Astrodome transformed Houston; Shlenker thought the pyramid could do the same for Memphis.
He became fascinated, too, with Tigrett, whom he'd first met at Memphis International Airport.
Few people could match Shlenker's experiences from 30 years in the trenches. John Tigrett could.
Shlenker had paid $125 to swap airline seats with a stranger in order to meet Astrodome creator Judge Roy Hofheinz and wound up Astrodome president. He had coaxed motorcycle daredevil Evel Knievel from his trailer just moments before a scheduled jump at the dome. He had made $35 million on a single television deal. He had bought the Nuggets over the phone.
Tigrett had faced off against dictators over oil drilling rights for Occidental Petroleum. He had been given immunity, but provided Watergate investigators no help in their investigation of Occidental chairman and friend Armand Hammer. He had played roles in several major business deals for British corporate raider Sir James Goldsmith.
Night after night, usually in Tigrett's ornate Wagner Street penthouse, talk of the pyramid gave way to the good old days.
THE camaraderie made their obvious difference in style and intent seem insignificant.
But from the start Shlenker's vision of the project stretched far beyond Tigrett's. The promoter and pro basketball team owner did not come to Memphis to become a restaurateur or the developer of two museums. Yet that was all Tigrett could offer; that was the portion of the project he controlled.
That alone proved a bother to Tigrett. But to Shlenker it was too little to bother with, a sure money loser.
Shlenker envisioned the Ninth Wonder of the World, using state-of-the-art entertainment technology not only in the pyramid but on nearby city-owned Mud Island.
His plans increased the cost of the promised private additions fivefold, to an estimated $55 million. They required that he also gain management control over the taxpayer-owned portion of the pyramid - the 20,000-seat arena. Control of the arena, through a management contract, would be up for grabs soon.
Competition was stiff. Several big firms vied for the job. Among these was a venture formed by Memphis cotton magnate William B. Dunavant and San Francisco 49ers owner Edward DeBartolo.
But each competitor showed up in early 1989 with the usual legion of lawyers. Each pitched the same deal to Hackett and Morris: They expected taxpayers to pay them to manage the arena.
Not Shlenker. He flew in a magician. Poof. A small model of the pyramid disappeared. It reappeared in a young woman's hands.
The professional pitchman had the mayors' attention. Now for the deal.
Give him exclusive control of the property, and he would make the taxpayers' annual debt payments. First $3 million a year, then $4 million, then $5 million. More than $150 million over the 25-year life of the contract.
Presto. The mayors' biggest concern about the project disappeared. Shlenker would pay for the right to lose money. Perhaps as much as $1 million a year. Quickly, he struck a second deal to take Mud Island, a perennial money loser, off Hackett's hands.
On the surface, both deals looked liked financial suicide. But over six months, since his first trip to Memphis, Shlenker had devised a meticulous plan. He had met repeatedly with Tigrett and Tigrett's lawyer, Marshall Criss, at Graceland to pore over details. They had met Hackett and Morris.
Shlenker was the salesman; Memphis a captive, eager buyer. For decades the city lusted for a tourism boom, for a professional sports franchise, for a recognized symbol of major league status, anything to catapult it to national prominence. Shlenker promised to deliver on that dream. To do it, though, he needed other people's money.
Shlenker's plan required him to control the pyramid; the management contract gave him that. It required that he have room to expand; Mud Island gave him 52 acres.
Once completed and while still the subject of curiosity, the project might even be sold to a major corporation. That wasn't an idea he talked about openly, but the profits from such a deal would ensure Shlenker could maintain his lifestyle - even in retirement.
AS lawyers fine-tuned the pyramid contracts, a public relations firm prepared a script of Shlenker's first public act: the April 14, 1989, signing ceremony at the Holiday Inn Crowne Plaza downtown.
Shlenker starred. Hackett and Morris were bit players, each with lines to read. These weren't just any contracts. By signing them, Shlenker, then 52, was taking Hackett and Morris off a political hook. Newspaper editorials supported the huge public expenditure, but it was not universally embraced by voters.
"That is one of the dumbest ideas that Memphis has thought of since Mud Island," one constituent wrote Morris. "Why do you want to spend more of our hard-earned money on a project like that?
"You had better stop to think that we can't even pay the utility bill on the Cook Convention Center, so how in the heck do you think we can build something like the Pyramid and pay the upkeep of it?"
The PR firm's script and posterboard props made it clear. Not only would Shlenker's company assume Hard Rock's minimum $10 million obligation, it would take over the city and county's debt payments. Over the 25-year life of the deal, it meant a profit for taxpayers, not the huge annual drain on government budgets common to other major arenas around the U.S.
Scene I:
Hackett: Who could possibly do all of this?
Morris: A person who first recognized 24 years ago this month the economic impact of civic arenas by developing the Astrodome and Astro World in Houston as its president and chief operating officer.
The script heaped praise, hailing Shlenker's arrival as if he were a marshal dispatched to a troubled cowtown in an old western.
The city erupted in Shlenker-mania. Hackett called him the "definition of a class act." The media fawned over him.
In supermarkets and restaurants, people who only weeks before had not heard his name lauded Shlenker. A woman interviewed by a Memphis television station dubbed him Santa Claus, presumably for taking the taxpayers off the hook, not his trademark vibrato laugh or his rotund profile.
Shlenker basked in it all. The Denver press had not been nearly so kind. His and son Andrew's push to bring Grand Prix racing to the streets of downtown Denver had not been widely cheered. Nor had a taxpayer subsidy for the race.
Much later, Denver Post columnist Woody Paige wrote that he had warned a "naive cousin" - Bill Morris - of Shlenker's "traveling medicine show/ shell game/flim-flam act."
Paige said he had whispered words of caution into his relative's ear at a family funeral: "Don't trust Shlenker."
SHLENKER'S majority ownership of the Nuggets guaranteed him great notoriety, not great wealth.
He lacked the personal assets to finance his elaborate plans in Memphis. Not that he or any other developer would have risked his own money anyway.
Still, he had no guaranteed source for the estimated $55 million to $80 million he needed to build additions to the pyramid. He had no real estate to mortgage, since he owned neither the pyramid nor Mud Island.
The Pyramid Companies had no assets to speak of. Union Planters National Bank provided a small operating loan, $350,000, but only after Shlenker, Tigrett and two other ranking executives, Marshall Criss and Walter Richards, signed personal pledges.
The lack of cash was a strain, but time put Shlenker under ever greater pressure. The company's telephone number, 529-1991, provided a constant reminder that the clock was ticking. On May 29, 1991, the doors had to swing open.
From the outset, Shlenker operated as if the doors were open, as if the tourists waited in line with wallets open. The company looked and acted flush, sluicing through more than $10 million in cash and running up millions more in debts.
Criss, involved in the pyramid deal since its infancy in 1986, left his private law practice to become chief operating officer of the company. Hired in May 1989, he was paid $78,000 that year. By 1990, that had reached $120,000 as the employee ranks swelled dramatically.
Chief financial officer Richards, who followed Shlenker from a Houston investment company to the Nuggets, then to Memphis, was paid $124,000. The vice president of finance got $77,000; the vice president of construction, $57,000; the vice president of marketing, $80,000; the vice president of merchandising, $50,000.
Shlenker's personal spending habits set the tone. He had homes at Denver Country Club and on the water in Malibu. He threw parties for friends at Sardi's in New York. He had traveled Houston's streets in a Rolls Royce.
Shlenker didn't change just because the company lacked cash. He still flew first class and stayed in posh hotel suites. He routinely exited airports by climbing into a waiting limousine and reaching for the cellular telephone.
The bills rolled in. From the Ritz Carlton in Atlanta, the Beverly Wilshire Hotel in Los Angeles, the St. Bonaventure in Fort Lauderdale.
One day Shlenker was billed for 13 hours of limo service: $503 for the car and driver, $260 for the phone, $100 for the tip.
Five nights at the Beverly Hills Hotel totaled $12,126. Shlenker's room was $475 a night. Two other rooms were billed to his account. Ancillary charges quickly mounted: $5,000 for limousines, $547 for room service, $524 for a babysitter, another $703 at the drugstore.
In all, Shlenker spent more than $258,000 on travel during his tenure, although only $56,000 was reimbursed by the company.
The expensive travel partly reflected longstanding personal style. But appearances mean a lot in the business world: No one trying to borrow as much as Shlenker would stay at Motel 6.
SUCCESS of the deal depended on the willingness of lenders to finance Shlenker's vision of the Ninth Wonder of the World. But the venture took shape near the end of a decade now reviled for its excesses.
Unkind economic times loomed as Tigrett convinced local officials that a pyramid-shaped arena deserved their favor, and more importantly, public funding.
Hackett and Morris had a ready source of cash for their commitment - the taxpayers. Shlenker and Tigrett did not.
To finance the private portion of the project, they were forced to negotiate with banks that were, more and more, balking at speculative ventures. Federal regulators had increased their scrutiny of such deals as bank losses mounted and savings and loans died by the hundreds.
It was a bit ironic. Shlenker had owned 5 percent of two huge Texas savings and loans declared insolvent and seized by regulators. Now his company faced the tougher lending climate that followed such regulatory action.
Yet he needed a lender that could afford the $55 million to $80 million construction budget.
He needed a designer who could provide architectural drawings of a project that met Shlenker and Tigrett's vision yet did not exceed the budget.
He needed collateral for the loan.
Above all, he needed cash to pay the designer and stay afloat until the loan closed. Time did not allow him to complete one step then move on to the next. He also had to get the arena ready for use. All the plates had to spin at once. Drop just one and the deal crashed.
SHLENKER took great pains to wrest control of the entire pyramid. Not because he relished the role of arena manager, but because it allowed him to approach sponsors and concessionaires without competition.
With exclusive control he could wring a higher price from them. If Pepsi or Budweiser wanted their names in lights, it would cost them top dollar.
Sponsors were expected to sign long-term contracts guaranteeing The Pyramid Companies annual minimum revenue from each deal.
These pieces of paper were as good as real estate because banks would accept them as collateral for the construction loan.
In a sense, all he and Denver business partner Dean Bonham were selling was the chance for major corporations to get their name before the public and to market their products. The more visible the display, the higher the price. Virtually everything that could display a corporate logo was for sale. Even The Great American Pyramid name could be changed if the price was right.
The Chrysler Pyramid. The nearest auto plant was 250 miles away. And it was Japanese-owned. But a proposed 20-year, $50 million deal made it a more logical fit. It was a long shot but the pitch was made. Sketches were drawn.
They tried everything. The Federal Express Pyramid. The Kodak Observation Point. Pepsi Festival Island. The Transamerica Inclinator.
Contracts with concessionaires added to Shlenker's borrowing power. Any company wanting to sell anything on the property - from T-shirts to soft drinks - would have to make a deal with him. They, too, would be required to sign long-term contracts that provided his company annual minimum guarantees. More building blocks for the loan.
By selling other companies on his vision, then using their money to pay his loan, Shlenker worked to build a huge project without risking his or his partner's personal assets.
SHLENKER'S business plan resembled a Rube Goldberg invention. But it was far less complicated than it appeared on paper. It was nothing more than a series of linked sales.
He already had sold Tigrett and the mayors. Now he faced selling sponsors and concessionaires on deals that could, in turn, be used to sell a lender to make the loan.
Shlenker prided himself on being a master salesman. He never held himself out as a business executive or manager. He could create the right mood, then deliver a compelling pitch. The magician had captured the mayors' attention with his sleight of hand.
The Big Dig, an oversized groundbreaking ceremony, was designed to captivate on a far larger scale.
Even without financial problems, others might simply have recruited the politicians to don hardhats and turn a few spades of dirt. Not The Pyramid Companies. It spent an estimated $440,000.
The planning was left to Pat Kerr Tigrett.
Instead of the usual gold-plated shovels gripped by men in suits, a huge, lighted shovel was dropped from a city police helicopter. Lasers cast a nighttime silhouette of the building's triangular shape. There was live entertainment for the thousands who braved a rainstorm the first night and came back a second.
Bankers, potential sponsors and concessionaires were flown in for the Sept. 14, 1989, ceremonies.
The event seemed prophetic.
The company had no revenue to fund the groundbreaking. So, on a much smaller scale, the company did what it hoped to do on the overall project. It raised money elsewhere by selling sponsorships and striking deals with companies wanting a piece of the concession business. More than $283,000 was raised.
But with no cost controls in place, expenses spiraled wildly. Hotel and airline bills stacked up. It cost an estimated $15,000 to send the Federal Express corporate jet to New York and return with entertainer Dan Aykroyd. Another $100,000 went for fireworks. The one-night rain delay added another $31,000.
Months later, when the bills were finally paid, the company swallowed a $150,000 loss.
Still, the public spectacular gave Shlenker an effective sales tool. Before thousands of Memphians enjoyed the show on the riverfront, Shlenker staged a different show for potential sponsors and concessionaires - out of public view in the Acuff Building in South Memphis.
Again, the setting was carefully chosen. There, in the Acuff building under police guard, the city was reproducing the Ramesses statue on loan from the Egyptian government. With the colossus towering in the background, designer Rich Battaglia, whom Shlenker hired, divulged his design plan.
Battaglia came highly recommended. He had extensive experience with Disney and had taken Shlenker and Tigrett's thoughts and created something of a Disney on the Delta:
Pick a date in history. Interactive juke boxes take visitors to the music of that day. A hidden elevator drops to a water ride exploring the ancient pyramids. Special technology allows visitors to steer a Lincoln Continental through the streets of Memphis, racing a Cadillac, as the song Hot Rod Lincoln fills the room.
But Battaglia's ideas carried a Disney-like price as well. Two weeks after the wowed guests went home, Battaglia unveiled the cost estimate to a stunned Shlenker: $250 million. Five times his target budget.
Battaglia was fired. Six months and $60,000 were lost.
LIKE the pressure that builds beneath the surface, then erupts into an earthquake, the differences between John Tigrett and Sidney Shlenker began to grind away at their partnership.
Initially, there had been such kinship, such trust in one another, nothing was put in writing. No documents spelled out what had been agreed to in those early one-on-one sessions in Tigrett's library.
But as the alliance shook, two sharply different accounts surfaced.
Shlenker insisted his partner took the lead on financing, that money was not a problem.
Tigrett's version could not have been more different: He recruited Shlenker to take over the deal, leaving himself in the background as the man who launched it, then handed off.
He presumed Shlenker was wealthy. But, much later, as the fissures appeared, Tigrett described his partner to a prospective investor as having a "bad case of the 'shorts.'"
Shlenker came from a wealthy Houston family. The entertainment booking company he founded and maintained an interest in, PACE Management, was valuable. He also parlayed a small investment in two Texas television stations into an estimated $35 million profit.
But a subsequent broadcasting venture ended in a huge bankruptcy, costing him its chairmanship and a personal $3 million investment. That was preceded by the debacle of his savings and loan investment.
The Nuggets put him under even greater financial pressure. During the first year of operations, the company recorded a net loss of $6 million. Shlenker's elaborate renovation of McNichols Arena went wildly over budget and cost an estimated $13.5 million.
Surprisingly, these losses only bolstered Shlenker's image in Memphis. They were seen as proof of his deep pockets and a willingness to dip into them when necessary. The Nuggets' $65 million sale price reinforced a belief that Shlenker was among Memphis's wealthiest residents - just as the president of one Memphis bank had quietly assured the city and county.
When the team's sale finally closed Nov. 30, 1989, Shlenker celebrated by drinking Dom Perignon 1982 from a Donald Duck coffee mug.
But he was not toasting the windfall some thought.
First, an estimated $24 million in debt was paid before the remaining proceeds were split among the owners. And though he was the majority partner, Shlenker owned only 40.8 percent of the team. He shared that equally with his wife in Houston. Their subsequent divorce enabled Marti Shlenker to collect $2 million (tax free) from the sale.
Selling the team had dragged on for months as The Pyramid Companies faced one financial test after another.
By the time the Nuggets sold, Tigrett had sunk $1 million cash into the new company; his new partner, $100,000. Those investments began evening out in early 1990 as Shlenker anted up cash or took personal responsibility for large loans, but as cash poured through the sieve, the partners' resolve was seriously tested.
The city and county's first real test of the company's financial strength came 90 days after Shlenker, Hackett and Morris signed the deal.
The contract required the company deposit $3 million by July 14, 1989, in a special account at Union Planters. The fund provided a safety net, of sorts, for taxpayers. If the deal disintegrated, the taxpayers would get the $3 million.
But the lawyers had taken a major detour as the deal was drafted. The city and county agreed to take publicly traded stock in lieu of cash.
At the time, it was an insignificant detail. Shlenker and Tigrett were best of friends, the city and county buoyant about their plans, and, most important, a loan to finance those plans was imminent.
Into the account went 242,363 shares of International Broadcasting Services Inc., owned by Shlenker, and 375,000 shares of General Oriental Investment Ltd. (GOI) controlled by Tigrett.
GOI provided a window onto Tigrett's closely guarded world.
Though Tigrett was perceived as wealthy, it was difficult to track his assets. Few were in his name.
He did not, for example, own the GOI stock that went into the account at Union Planters. They were registered to Jovest Foundation, based in Liechtenstein.
GOI was traded on the loosely regulated Vancouver Stock Exchange. The company was headquartered in the Grand Caymans, a place known for its wide- open business atmosphere and tax shelters.
The stock was publicly traded as required by the contract. But it rarely changed hands. Britain's Goldsmith, a billionaire, dominated ownership, controlling nearly all of the stock either through trusts or a closely knit group of friends and business partners.
As the city and county would discover later, that dominance made the stock difficult, if not impossible,to value.
The link with Goldsmith and the company he used as a vehicle for corporate takeovers helped outline the basis for Tigrett's presumed wealth.
In what amounted to a second life in business, beginning in middle age, Tigrett was secretive, did business most often outside U.S. borders, and normally with some of the world's richest men.
Previously, he had been a book salesman, executive vice president of American Burlington Bus Lines and an investment counselor.
Much of his reputation centered on a knack for buying patents, then cashing in on the products. His Jackson, Tenn., company, Tigrett Industries, became so well known an estimated 16,000 unsolicited ideas a year arrived on his doorstep or in the mail. While media-shy today, his story was splashed on the pages of Time, Newsweek and Saturday Evening Post in the early 1950s.
"Glub-Glub," the drinking bird, made an estimated $100,000. Sales from the "Pitch Back," a mesh backstop that returned a baseball to the thrower, reached $1 million in 1959. He introduced U.S. consumers to mesh playpens and retractable measuring tapes.
Then he walked away.
He signed on as European representative of Holiday Inn. There, he became a confidant of Goldsmith, Hammer and J. Paul Getty.
Accustomed to working in such circles, Tigrett turned testy at local government's cautious pace on the pyramid project. He never ran into such hurdles in Europe, he insisted. At times he referred to key members of the city and county administrations as "helpers" or "mental midgets."
His gruff, bullying business manner contrasted with a gentlemanly, even soft-spoken private persona. But business was business, and friend and foe alike felt his trademark poison pen.
At first his letters stunned their targets, but as one after another arrived, they began to lose their impact. Never did they leave room for misinterpretation. He believed his son was due a partial repayment once the Hard Rock franchise was transferred to Shlenker. He railed when the city and county blocked the payment. He did not like the mayors' request that all pyramid- related communications be directed to the county attorney.
"My dear Bill," read Tigrett's large, handwritten salutation to Morris.
"You have requested that any letter which I may write to you as Mayor should be addressed to your legal staff. My comment to this insult is that I will write whomever I want, whenever I want to and I will always expect the courtesy of a gentlemanly response. You are certainly no exception!!" The first shot had come much earlier, in February 1989.
"If you two (Hackett and Morris) are attempting to imply that in any matter relating to the Pyramid or any other project, that I have not been completely honest with both of you - then you are lying.
"I have successfully conducted important business in every major country in the world with never a question of my integrity or skill. I expect to continue to do business in my own way as long as I live, and I am not taking instructions from you two or anyone else....