Pyramid Arena - from the original web site of the Pyramid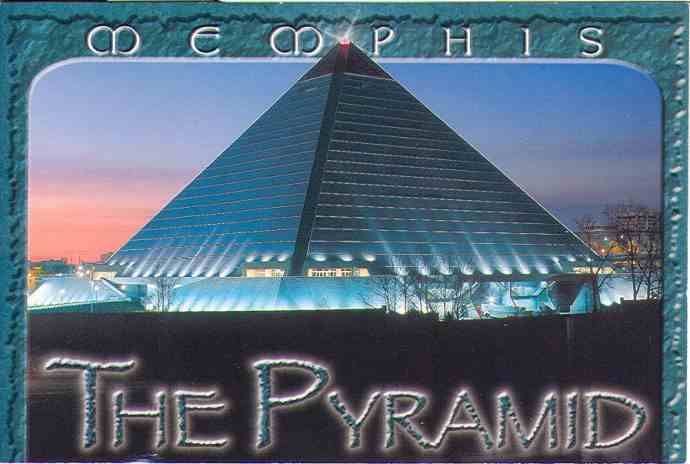 AN ANCIENT EXPERIENCE WITH MODERN TECHNOLOGY
The Pyramid is one of the most unique and finest sports, entertainment, and exhibit facilities in America. Located on the banks of the Mighty Mississippi and in the heart of downtown Memphis, The Pyramid creates an ancient experience with the comforts of modern technology.
The Pyramid, a 321 feet massive steel structure, was built in 1991, and has become a landmark as famous and enduring as its Egyptian predecessors. The 22,000-seat arena has an additional 90,000 square feet of space for conventions, trade shows and exhibitions. In addition, The Pyramid has been the host of the Memphis Wonders Series for 3 years, featuring exhibits such as Titanic, Ancestors of the Incas, and WWII through Russian Eyes.
See Also
http://www.mallofmemphis.org/Main/Pyramid | Main Pyramid Page
Technical
Seating:
    * 20,142 seats for basketball
    * 20,000+ seats for concerts
    * Half house curtain system to accommodate 5,000 to 10,000 seats

Electrical:
    * One (1) 5 wire 800 amp per leg, 30-208v., fused disconnect, backstage left
    * Two (2) 5 wire 600 amp per leg, 30-208v., fused disconnect, backstage left
    * One (1) 5 wire 400 amp per leg, 30-208v., fused disconnect, backstage right

Lighting:
    * 185 Widelite, 1000w MVR fixtures, providing 146 horizontal foot candles, 75 vertical foot candles and 65 color rendering.

Loading Dock:
    * Four (4) 50A bus electrical outlets.
    * Parking for seven (7) trucks.

Freight Elevator:
    * One (1) Dover 10,000 lb. Capacity.

Spotlights:
    * Eight (8) Strong, Xenon Gladiator III's

Staging:
    * Sico staging. 130, 4' x 8' deck panels.
    * Four (4) eight rise modular step w/rails & wheels, carpeted. Two (2) six rise modular step (2+2+2 w rails & wheels, carpeted).
    * Two (2) rise step w/rails & wheels, carpeted.
    * Eighteen (18) 8' guard rails.
    * Four (4) 4' guard rails.
    * Ten (10) 8' chair stops.
    * House barricade.
    * Handicap ramp.

Dressing Rooms:
    * One (1) Women's chorus room. 480 sq. ft. Showers and restroom.
    * One (1) men's chorus room. 480 sq. ft. Showers and restroom.
    * Eight (8) dressing rooms. 290 sq. ft. each. Each room is equipped with bath tub, shower units.

Green Room:
    * 500 sq. Ft.

Rigging:
    * Floating grid.
    * Floor to low beam: 95'
    * Total load capacity, 150,000 lbs.
    * Catwalk around perimeter of grid.

Production Office:
    * 250 sq. ft.

Security:
    * Uniformed security on duty at all times. Local off-duty police officers, private uniformed security guard service and peer group security available for events.

Sound:
    * Anchitech sound system. Sound clusters located on grid. Sound cluster located on bottom of scoreboard. Speakers located around main concourse area.

Disabled Patron Services:
    * Seating for disabled patrons is available on each level. Accessible parking is available at the southeast corner of the facility. This is located near the handicap entrance of the building. All concession stands and restrooms are accessible.

Monday, February 19, 107
Keep Me PostedThe Pyramid Arena in Memphis Tennessee is one of the most uniquely designed structures on earth. The 32 story Pyramid is the third largest pyramid in the world and soars even taller than the Statue of Liberty or the Taj Mahal. Managed and operated by SMG, this 21,000 seat sports and entertainment facility is home to the NBA Memphis Grizzlies and the University of Memphis Men's Basketball Program and is well known for hosting national basketball tournaments, concerts and family shows.
Here are a few quick facts about The Pyramid Arena:
    * On the bank of the Mighty Mississippi River, the arena is housed inside a 32 story stainless steel pyramid, paying homage to the Memphis' namesake - Memphis on the Nile River.

    * This giant pyramid has more than a half million square feet of usable space inside.

    * With a footprint larger than six football fields, The Pyramid's base covers 360,000 square feet.

    * Seating capacity is approximately 21,000 for concerts and just over 20,000 for basketball.

    * Twenty-six lower level luxury suites are located on the plaza concourse.

    * Two additional suites are designed for disabled patron. Disabled seating is also available on all three levels of The Pyramid.

    * The Pyramid Gallery of Stars is an informal gathering area on the East Mezzanine, featuring super-size photos of the biggest stars in sports and entertainment. All of the photos were taken from past Pyramid events. The Gallery area also features additional restrooms and concessions.

    * The backstage areas include 10 dressing rooms, four locker rooms, a media work room, interview room, show production office and green room.

    * The giant center hung scoreboard has the latest state-of-the-art LED video display board technology. The entire system features full video production capabilities; four center-hung 12-foot by 10-foot replay boards and 24 concession stand monitors.