Russwood Park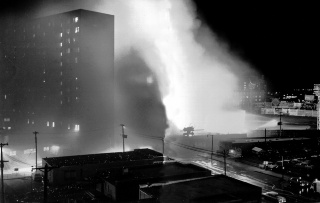 Think AutoZone Park is the first baseball field in downtown Memphis. Think again. Russwood Park, the baseball park was on Madison across from the now demolished Baptist Memorial Hospital (at left) was destroyed Easter Sunday, April 17, 1960. The intense heat from the fire shattered windows in Baptist and John Gaston hospitals and forced the evacuation of hundreds of patients. Winds of 15 to 20 mph whipped flames from the burning Russwood Park across from Madison Avenue to BMH's Madison East wing. Flames rose as high as the 12th floor, but there were no deaths in the five-alarm blaze. About 250 patients had to be evacuated from Madison East during the fire. An effective emergency plan was executed by 600 on-duty employees and 400 staff members from the emergency standing reserve. (By Robert Williams / The Commercial Appeal)
Some 45 years later, Baptist Hospital would be dropped to the ground in a matter of seconds.
---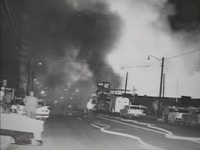 Fire Museum video of the Russwood Park Fire
---
Russwood Park / Elm Wood Park (1896-1915)
BUILT: 1896
DESTROYED: 1960 by Fire
Memphis Chickasaws
Memphis Tennessee
Southern Association
YEARS: LEAGUE: TEAM NAME: AFFILIATION:
1960 Southern Association Memphis Chickasaws St. Louis Cardinals
1959 Southern Association Memphis Chickasaws None
1958 Southern Association Memphis Chickasaws Boston Red Sox
1957 Southern Association Memphis Chickasaws Chicago Cubs
1956-1948 Southern Association Memphis Chickasaws Chicago White Sox
1947-1945 Southern Association Memphis Chickasaws None
1944 Southern Association Memphis Chickasaws St. Louis Browns
1943-1937 Southern Association Memphis Chickasaws None
1936 Southern Association Memphis Chickasaws New York Giants
1935-1912 Southern Association Memphis Chickasaws None
1911-1909 Southern Association Memphis Turtles None
1908-1903 Southern Association Memphis Egyptians None
digitalballparks.com
---
RUSSWOOD'S LAST GAME
A Memphian recalls Big Klu, the 1960 White Sox, and a venerable ball park's overnight destruction.
BY TOM WALSH | NOVEMBER 1, 2005
The White Sox victory in the World Series and the death Sunday of Al Lopez, manager of the Sox's last AL championship (1959) before this year, have inspired me to wax nostalgic for times gone by. Please indulge me a wistful moment, or feel free to ignore.
My claim to fame in these recent events is that I actually saw the 1959 league champs play. The defending AL champion White Sox came to Russwood Park for a pre-season exhibition game against the Cleveland Indians on Easter Sunday 1960. I'm sure Lopez was there, as were stars from both teams.
I only remember a few things about it. I was 12 at the time.
I remember a big crowd, and the pungent aroma of cigars and pipes. You don't get that at ballparks anymore. That's a good thing, but every once in a while when they have those retro nights, I'm tempted to suggest that they do something authentic and allow cigars and pipes -- not cigarettes, just cigars and pipes.
I remember being impressed that day by Ted Kluszewski, the aging slugger (and onetime Memphis Chick!) who had spent most of his career with Cincinnati and was now with Chicago. Kluszewski had huge meaty arms, and he liked to cut his sleeves short so everybody could get a good look at his bulging biceps, especially pitchers. When he was about to swing, he would pick his lead leg way up and thrust it into the ground as he swung, as if he couldn't wait for the ball to get there so he could whale away at it.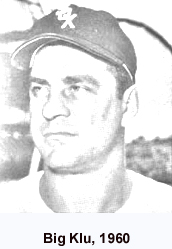 That afternoon Kluszewski crushed a line drive straight to the second baseman. I hope the fielder had a well-padded glove, because the ball was a bullet, three feet off the ground when it left the bat and three feet off the ground when caught.
I also remember seeing Rocky Colavito, Cleveland's power hitter then in his early prime. Rocky hit a home run into the left field corner. I think it was the only homer hit that day. I know it was the last one in the game.
It was also the last one ever hit at Russwood Park. The old wooden stadium burned to the ground that night, and with it the best hopes and dreams of Memphis baseball for some time to come. The cause was never determined, but it was assumed that it was one of those smoking items I mentioned earlier, left by a careless fan, perhaps a descendant of Mrs. O'Leary's cow.
It was the biggest fire in Memphis history and has become the stuff of legend. It broke windows in the Baptist Hospital across the street, and patients had to be evacuated. Every piece of fire equipment in the city responded, and they even called in some from small surrounding towns. People actually came to watch it, such was the spectacle.
The Memphis Chicks had to play that season in a hastily converted football stadium. That's where I got an autograph from an 18-year-old catcher from Memphis, Tim McCarver; people who appeared to be his parents stood by beaming at the thought that some child wanted their child's autograph. I'm sure neither he nor they ever imagined that the next replacement stadium would one day be named for him. Nor could they possibly foresee that he would enjoy two great careers, first as a player and then as a broadcaster.
Today, if course, we have in Autozone Park the most beautiful stadium in the minor leagues, and Memphis baseball is in its heyday. The White Sox are once again looking good, and the much-maligned South Side owns the baseball world. Al Lopez is gone, the Baptist Hospital is about to be imploded, and some days I don't feel so good myself. But most days are good. Today is one of them, and I'm grateful for it, and for lots of good memories.
Tom Walsh is a Memphis attorney and poilitical activist.