Sidney Shlenker
The saga, the drama, the fiasco that led to the Pyramid all began in the late 1980's with the unforgettable Sidney Shlenker. His promises ended up as elusive as a realistic financial plan for his grand vision for The Pyramid.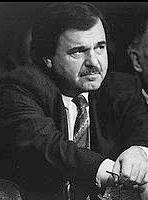 In the course of a few years, he went from Memphis' "Man of the Year" to a verb:
shlenker (SHLINK-ur), v., 1) to dupe. 2) to fool. 3) to take advantage of people with too little self-esteem to say no. (From Southern, unknown derivation, possibly river-related.)
Shlenker is now the stuff of mythology, relegated to stories of a modern Carnival huckster who hypnotized the city and county into giving him control of their sparkling, new signature building. Forgotten these days are some interesting facts: one, he owned a National Basketball Association team in Denver, he had been CEO of the Houston Astrodome, he had co-founded Pace Entertainment (the largest live entertainment company in its day) until bought by the ever-hungry SFX and most remarkably of all, he was a banker. Two, his credibility was vouched for by one of Memphis leading citizens, John Tigrett. Three, after years of searching vainly for bank financing, at the 11th hour as his contract was being voided, he found the money for his project in a French bank, but the deal fell quickly apart when the bank received an anonymous, highly critical letter about him, postmark: downtown Memphis.
No, we're not defending Shlenker, but it's just a little hard to place all the blame on the pickpocket when you put his hands in your pocket.
---
The complete story, if you are too new to Memphis or too young to remember...Pyramid Dreams: Pyramid Schemes
Update
Sidney Shlenker - Flamboyant entrepreneur and promoter who once owned the Denver Nuggets and was chief executive of the Houston Astrodome's parent company, and who was known for bringing wild events to the Astrodome in the 70's and 80's, including the "Battle of the Sexes" tennis match between Billy Jean King and Bobby Riggs in 1973, died April 23, 2003 of heart failure in Los Angeles at age 66.