Single, Empty Landmark Seeks...
By Paige Orr May 2004
The Memphis Pyramid is a landmark, an architectural wonder and a money-losing public building desperately seeking a solution.
New tenants or even a new owner would be welcomed, as the arena is smarting from the recent departures of the NBA's Grizzlies and the University of Memphis Tigers, both which left for greener pastures at the new $250 million FedEx Forum.
Shelby County Mayor A.C. Wharton, says he has been approached by potential retail and office tenants, along with people considering the facility for hospital use and developers interested in using the Pyramid as an extension of the Memphis Cook Convention Center. Wharton is eager to find a way for the Pyramid to generate revenue. Owned by Shelby County and the City of Memphis, the 13-year-old structure carries $32 million of debt, an obvious burden to taxpayers.
Demolition of the Pyramid is not out of the question. A new use that requires tearing down the 32-story Pyramid is painful for Memphians who appreciate the arena's unique architectural design, but its location on the Mississippi River in Downtown Memphis make the real estate a hot commodity, perhaps more attractive as a clean slate.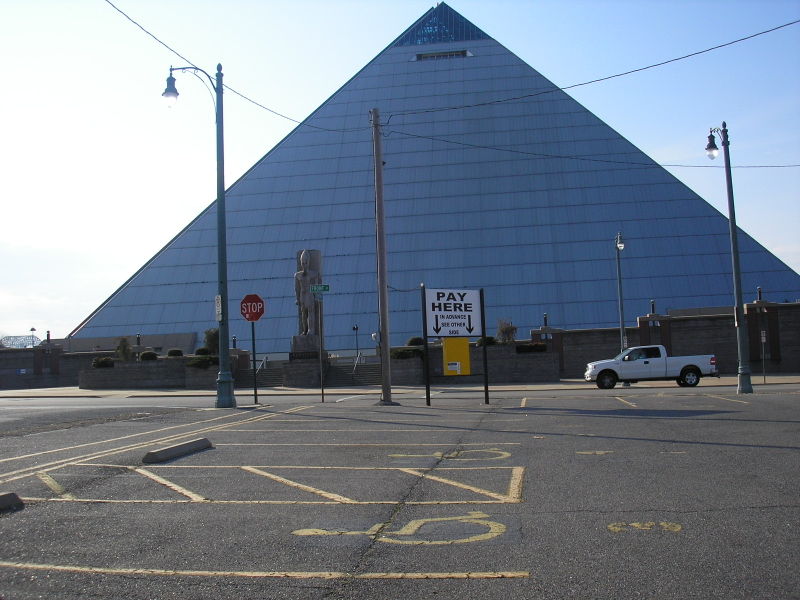 "My loyalty is not to my nostalgia and love affair with the structure; it's to the taxpayers," says Wharton, admitting that he would entertain the thought of the demise of the Pyramid if it were determined to be the best course of action for taxpayers. But before a solution is found, officials still have some work to do.
"We've got a number of legal hoops to jump through to get things squared away with the University of Memphis," Wharton says.
The business community and the city are discussing a request-for-proposals procedure to determine the best uses of the structure. Dean Jernigan, founder of Storage USA, has enlisted Kerr Tigrett to serve as "quarterback" for the effort. Tigrett is the son of the late John Tigrett (the famous entrepreneur who initiated the Pyramid's development) and Pat Kerr-Tigrett (a Memphis couture fashion designer).
Pyramid Schemes
What will be the Pyramid's fate? Real estate developers, elected officials and other Memphians have suggested possible uses of the Pyramid. Some ideas are bizarre, some plausible—but Memphis and Shelby County leaders will have to move fast to find a use that can stop the financial hemorrhaging and tap this property for the revenue it is capable of producing.
Casino Chatter about turning the Pyramid into a casino is settling down—at least for now—because required changes to the Tennessee Constitution allowing in-state gambling are not realistically on the horizon.
Residential development Downtown Memphis is a booming residential market, but would potential residents want to live in the shadow of this huge structure?
Extreme sports showcase - Inside the arena and outside, where a landscape of concrete is waiting for action, extreme sports competitions and demonstrations could call Memphis home. Unfortunately, extreme sports might not provide the traction needed to elevate the Pyramid into profitability.
Concert hall - The artistic architectural design of the Pyramid would match well with its use as a concert hall for a full range of music genres, in keeping with Memphis' musical heritage. However, the arena was not designed with ideal acoustics in mind.
Haunted house - While a huge haunted house could work on a seasonal basis at first, many Memphians are hoping for a more serious, year-long, adaptive reuse.
Minor league hockey team - Knoxville hockey fans have their Ice Bears, and Memphis could host its own minor league hockey team in the Pyramid. However, if Memphians' thirst for live sports is already quenched by Redbirds baseball and Grizzlies basketball, introducing minor league hockey would be a gamble.
Burial tomb - Center City Commission President Jeff Sanford, says, "Maybe we could use the Pyramid for what the ancient pyramids were intended for—let's bury our dead in it." Creative, yes. Likely, no.
Solar panels - Shelby County Mayor A.C. Wharton says he has had discussions with experts about installing solar panels on the Pyramid's exterior to harness natural energy to power downtown. So far, he says, these talks have not progressed beyond the preliminary stage.
Aquarium - Sanford says the entire structure could become an aquarium—just add water and replace the reflective panels on the structure's exterior with clear panels. Executives at Belz Enterprises are also in favor of a Pyramid Aquarium concept.
Free trade zone - The Nashville Area Chamber of Commerce is interested in setting up a free-trade zone near the Nashville International Airport. The planned bonded warehouse would help businesses lower their import tariffs and eliminate re-export duties. Memphis could beat Nashville to the punch with its own free-trade zone, a perfect opportunity for a city with an already booming industrial and distribution market.
Museum - The Pyramid's architecture is artistically important, and its interior could house great art. Public interest in such a large art museum may not be robust enough to support such a concept, but it would be fitting.
Space for schools - While area schools undergo renovations or for when there is overcrowding, students could use space at the Pyramid. Also, with the surge in downtown residents, new schools will be needed in the area anyway. Retrofitting the configuration of the Pyramid for permanent classroom usage would be quite difficult and expensive.
Indoor amusement park - Andy Groveman, senior vice president and real estate development firm Belz Enterprises, says the folks at Belz think a multi-level indoor amusement park, perhaps in the spirit of Libertyland or Six Flags, would fit right in at the Pyramid.
Church use - In Houston, Lakewood Church recently signed a long-term lease with the city to renovate and occupy the Compaq Center. With some of the world's largest churches in Memphis, worship services inside the Pyramid could be the next big thing.
Convention center extension - The recent $92 million expansion of the Memphis Cook Convention Center makes many question the need for extending the facility to include the Pyramid. Real estate mogul Henry Turley says he likes Dean Jernigan's idea of a new hotel connecting the convention center to the Pyramid, which could house events with size requirements, such as boat shows or other large exhibits.
http://www.businesstn.com/pub/1_5/topnews/7292-1.html
---
July 15, 2007
As reported in The Commercial Appeal, Robert Lipscomb is attempting to find out once and for all whether Bass Pro Shops ever intends to formalize their deal to purchase the Pyramid and turn it into one of their Superstores. It has been many months since Bass Pro first approached Memphis and they have dragged their heels for months to present a proposal for the purchase and renovation. At this point, Mr. Lipscomb is entertaining alternative options for the Pyramid in the hope that the Pyramid can be open once again.
---