Sterick Building
Third and Madison
The Sterick Building has not joined Lost Memphis yet, but continued neglect will do the job. The flaking paint and dirty windows don't give a clue that this skyscraper was once called "the Queen of Memphis." But when the 29-story Sterick Building opened in 1930, it was not only the tallest building in the South (and the tallest building in Tennessee until 1957), it was called "the most complex, the most fabulous building in Memphis."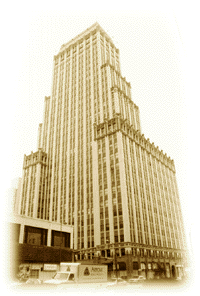 It was designed by Wyatt C. Hedrick & Co., and is a gothic-style tower, 111 m (365 ft) tall. Named for the first owners, Texans R.E. Sterling and Wyatt Hedrick, the Sterick was a gem, a gleaming white stone spire topped with a green tile roof. The first three floors were crafted of granite and limestone, and newspapers said the lobby "rivals the beauty of a Moorish castle." The Gothic-style showplace housed more than 2,000 workers, and had its own barber shop, bank, pharmacy, stockbroker's offices, and beauty parlor. Eight high-speed elevators whisked passengers up to the Regency Room restaurant on the top floor.
The building began to decline in the 1960s as did much of the rest of downtown. One by one, tenants moved out, and the building went through a series of absentee owners. Despite a number of alterations (including being repainted in the mid-1980s from its original white and green to yellow and tan), it has been left vacant since the 1980s.
Today the Sterick is completely abandoned and has been unseen inside since 1987 except for the homeless seeking shelter and the occasional daring urban explorer, most of whom consider Sterick to be the crown jewel of Memphis exploration.
According to the Center City Commission, there are no plans for the building.
It was added to the National Register of Historic Places in 1978.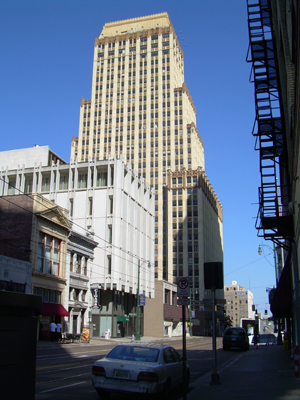 Former Tenants
Green, Dr. Sam, 740 Sterick Bldg.
References
Various Urban Exploration sites