Mall's ghost tempts retailer
Photo A.J. Wolfe
The Commercial Appeal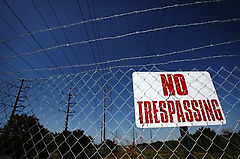 Signs, concrete barricades and barbed wire surround the old Mall of Memphis site, where work crews have tried to keep the property in reasonable shape since the mall was demolished.
Wal-Mart may put store at once-proud shopping location By Amos Maki
September 20, 2006
Wal-Mart Stores Inc. is targeting the former Mall of Memphis site for a new Super Wal-Mart.
The Bentonville, Ark.-based company -- the world's largest retailer -- is under contract to buy 20 acres of the 95-acre site at Perkins and I-240.
"We have the option to go there and we're definitely interested in looking at that property to figure out if it works for us," said Dennis W. Alpert, Wal-Mart senior manager of public affairs for state and local government relations. "Our plans are purely speculative right now. We have it under contract, but we are far from making any decision."
Wal-Mart would provide a significant boost to efforts to market the rest of the mall site to potential developers, said Scott Barton, head of retail leasing for CB Richard Ellis Memphis. CBRE represents the property owner, a division of Lehman Brothers Holdings Inc.
"I really believe Wal-Mart being there changes everything," said Barton, who is also representing Wal-Mart. "Whereas before people may have seen obstacles, now they see opportunity."
The retail real estate community was abuzz with the news Tuesday.
"This is big news," said Gary Myers, principal of the Gary Myers Co. "Wal-Mart is the next best thing to having a regional mall there. Maybe a few other people will follow their lead. Retailers are followers. If they could build on top of each other they would."
Barton and CBRE are also acting as property managers for the site and crews have been busy cutting grass, removing trash and generally trying to improve the abandoned site.
Barton has been working closely with city officials -- particularly chief financial officer and Robert Lipscomb and public works director Jerry Collins -- to clean up the overgrown Nonconnah Creek banks to improve the visibility of the site.
"Any retailer wants to be seen," Barton said. "It's one thing to have access from the interstate and traffic counts, but people need to know you're there."
Lipscomb is optimistic that landing Wal-Mart will help redevelopment efforts.
"If we get Wal-Mart, hopefully the rest will come and create some synergy there and attract other businesses," he said. "That's the whole idea."
Wal-Mart already has a store in the area, at the Delta Square shopping center on American Way.
"We have no plans to close that store and we have no plans to relocate that store to another place," Alpert said. "We don't want people jumping to conclusions by putting one and one together."
A new store would also give Wal-Mart a flagship store close to the interstate loop.
"What we're trying to do in Memphis is to increase our expansion in Memphis to assist the city in growth and provide economic opportunities for folks in all areas of the city," Alpert said. "If we can be helpful to the city and clean up an area that has been underutilized in the past, we're happy to do it if it works for us.
"Hopefully, in a situation like that, not only would we drive other businesses into the area or bring businesses back, but we'd also bring jobs to those folks."
The mall closed in December 2003, 22 years after it opened, though it had been declining since the mid-1990s.
A declining neighborhood, combined with bankruptcies of large national and regional retailers and some high-profile crimes, led some stores to leave even before the 1.1 million-square-foot Wolfchase Galleria opened in Cordova in 1997.
Other mall merchants left in 2001, following the loss of anchor stores Dillard's and J.C. Penney.
It was a sad end to a once successful mall, Myers said.
"It truly was a regional mall," Myers said. "At one time, over 30 percent of their sales came from outside Shelby County."
Myers said the site was always ideal for retailers. "It's just that the Mall of Memphis itself lost a public relations war against crime," he said.
But the possible addition of Wal-Mart, along with the site's central location, make the site attractive.
"It's about 10 minutes from everybody that lives inside the loop," said Danny Buring of the Shopping Center Group, which has helped market the property to retailers for Atlanta-based New Bridge Retail Advisors, which was hired to explore redevelopment opportunities.
"The bottom line is, it's a great piece of real estate."
Related