Walgreens
Opening day tenant. Many people do not remember a Walgreens Drug Store in the Mall, but there really was one. The Malls opening day floor plan indicates its location was on the upper level near JC Pennys (shown below). This information is confirmed by several site visitors.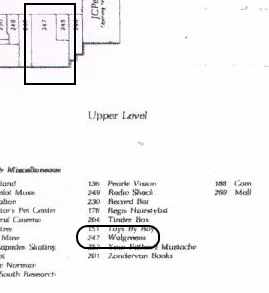 To see the complete Opening Day floor plan,
OpeningDayStoreDirectory
Comments
If you have a memory, a story or experience about this store, please do! Reader contributions add value to our site!
10/25/2007
It has been confirmed by my mother, and Grandmother that there WAS a Walgreens inside the Mall of Memphis. To quote my Grandmother "Back then, you could find one inside of every mall" as well as every street corner. No actual information, but this IS confirmed.
9/11/2010
I can also confirm its existence. I am surprised that many people don't remember Walgreen's. It was located on the second level, south side, by J.C. Penney's. I worked at B. Dalton Booksellers, which was across from Walgreen's and few doors down. I went there occasionally on my breaks to buy a soda or snack. What I recall most about the store is that it had small metal gates, about waist-high, at the entrance. The gates operated on an electronic sensor and were slow as Christmas to open. You couldn't get in or out of that store in a hurry if your life depended upon it. MTF
---
WELDING SPARKS FIRE AT WALGREENS
The Commercial Appeal - Wednesday, September 12, 1990
Employees at Walgreens's Mall of Memphis store spent Tuesday cleaning up from an early-morning fire sparked by construction welding on the mall roof above the drugstore.
The mall's automatic sprinkler system immediately doused the fire and triggered an alarm at the Memphis Fire Department at 5:45 a.m. Tuesday, according to mall spokesman Linda Daichendt.
There were no injuries. Fire investigator Capt. Charles Pitman estimated damages at $10,000 to the building and $40,000 to the store contents. Walgreens is expected to reopen this morning.