Chicago Park School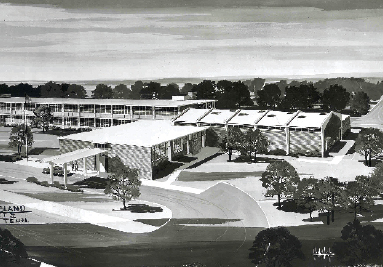 Dear Vance: I lived in Memphis when I was a kid and during the 1970s I was bused to a school called Chicago Park. However, searching online I discovered the school was inactive. Do you know what happened to it? -- d.r., st. louis.
Dear D.R.: It's safe to say that few schools in our city have had such a short and troubled history. And Chicago Park opened with such promise -- a modern facility (below) that was designed to revitalize a decaying old neighborhood in North Memphis.
In 1960, the Memphis Board of Education purchased several acres a few blocks east of the Firestone Tire and Rubber Company plant, and hired the local architectural firm of Wiseman & Bland to design a sprawling, two-story complex with gymnasium and playground. The big playground ran alongside Cypress Creek and that, as it turned out later, was trouble.
You see, in the early 1960s, Cypress Creek had apparently been a dumping ground for pollutants discharged by nearby industries. Chicago Park schoolchildren began to develop rashes and unexplained sores. Neighborhood activists, led by a fellow named N.T. "Brother" Greene, demanded the playground be closed. Others doubted there was a problem; a member of the New Chicago Civic Club tried to calm residents, saying, "It makes no sense to get alarmed."
It was a very confusing situation. Shelby County Health Department officials insisted there was nothing wrong with the property. However, samples taken by the EPA showed higher-than-normal levels of dangerous chemicals in the soil, including a carcinogen called endrin.
In 1981, the playground was closed and surrounded by a chainlink fence. But that still didn't ease the concerns of parents, so in January 1982, Willie Herenton, who was then superintendent of city schools, announced that the Chicago Park School at 1415 Breedlove would be closed. Herenton insisted it was mainly a cost-savings measure, since the big school only housed about 300 students. "The experts differ," he told reporters, "as to whether there are enough chemicals to be dangerous to the children."
That wasn't good enough for one school board member, who noted, "When scientists disagree, it means there's a problem that no one wants to take full blame for explaining."
If Chicago Park School was supposed to bring new life to the neighborhood, it gets an F. The school buildings were boarded up, and in 1982 Firestone, one of our city's largest employers, closed.
http://www.memphismagazine.com/gyrobase/Magazine/Content?oid=oid%3A21022
---
I saw this article and became curious as to what became of the Chicago Park School after it closed. I looked up the address mentioned above on Google Maps and found that even today, the building (or at least part of it) remained intact! While in the New Chicago area to take pictures of the old Manassas High School, we ventured over to Breedlove to find the building, and it's been converted into what appears to be apartments, known as the Chicago Park Place apartments, to be exact. I snapped a few pictures, and you can very obviously see what was once the gymnasium in one of them. --Clinton Yelvington