The Giant Memphis Shoe
Located near Lamar at I-240, the shoe was built in 1965 and was demolished in 1996
Your host remembers the Giant Memphis Shoe and had looked in vain for a long time to find photos or information about it. Thank goodness for the people at MemphisMemories.com - they recently posted the information below about the Giant Shoe and have much more information and Memphis history as well! Be sure and check them out;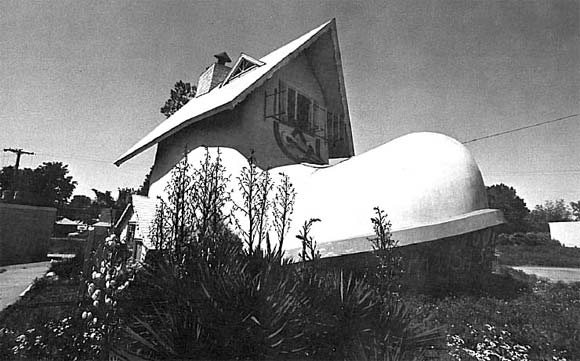 Photo and article from The Well-Built Elephant and Other Roadside Attractions:
A Tribute to American Eccentricity (1984) by J.J.C. Andrews.
The shoe store had unique, child-oriented furniture inside. One was a giant octopus with seats on the ends of its tentacles.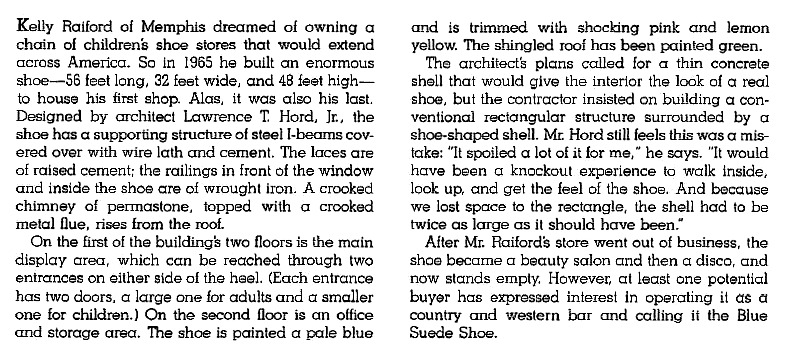 The shoe's architect, Lawrence T. Hord Jr., passed away in December 1996, the year the shoe was demolished. The architecture firm is now under the leadership of his son, Carter Hord, AIA, who provided the original architectural drawings on the right.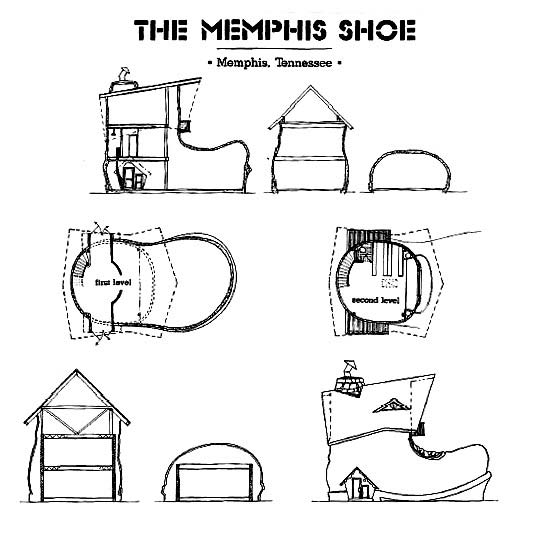 Hord Architects 66 Monroe Ave., Suite 105 Memphis, TN 38103 Tel. 901.527.9085 Fax. 901.527.9087 www.hordarchitects.com
References
The information on this page comes directly from MemphisMemories.com - a great site focused on the history of Memphis, the Memphis we remember. We are looking at ways we might work together with MemphisMemories.com to provide a great web resource. If you have ideas or comments on the subject, please send them to mallofmemphis@gmail.com - Thanks!