Gift Certificates for the Mall
According to the mall's last website, they offered gift certificates for sale that could be used in the stores or restaurants. This was in the days before "gift cards":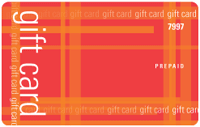 "Mall of Memphis Gift Certificates make the perfect gift and are redeemable at any Mall of Memphis store - including the Food Court. Gift Certificates are available in denominations of $5, $10, $15, $20, $25 and $50."
However, I have been unable to locate an image of what these certificates looked like. If you still have one, how about scanning it and uploading the picture here or email it to mallofmemphis@gmail.com
Mall of Memphis Credit Card
Did you know the Mall of Memphis was the first mall to have it's own Credit card? Dennis Allen, Marketing Manager for the Mall says: "I started up a program with a local bank (can't recall which one). We started the "Card of Memphis". Same logo as the old paddle wheel logo..but "Card" instead of "Mall". Many of the mom and pop stores in the mall accepted it...but after about a year it died as the national chains would not accept it due to the high discount rate (rate the store pays the bank as a percentage of the sale). This was long before "vanity cards" (a Visa or MasterCard with the store/organization logo on it).".