The Mud Island P.T. Boat
Memphians of a certain age will remember that before the Mud Island Amphitheater, the scale river model, the museum and the monorail to the island there was a different Mud Island just off downtown Memphis. One where Mud Island had an airport of sorts and a PT Boat moored at the tip of the island.
Most people didn't know why the boat was there or where it went when it disappeared. Including us!
The Mud Island PT Boat was PT796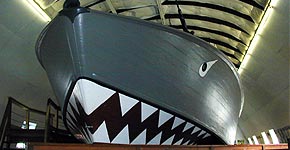 Higgins PT 796
        Class: 	Higgins 791 Series
         Type: 	Motor Torpedo (PT) Boat
     Launched: 	June 23, 1945
           At: 	Higgins Industries, New Orleans, LA
    Completed: 	October 26, 1945
       Length: 	78 feet, 9 inches
         Beam: 	20 feet, 1 inch
        Draft: 	5 feet, 3 inches
 Displacement: 	48 tons
     Armament: 	Two 22.4-inch diameter Mk13 torpedoes on roll-off racks; two twin .50 cal. machine guns; one 40 mm gun;
                one 37 mm gun; one 20 mm gun; smoke generator; two Mark 50 5-inch rocket launchers.

PT796, nicknamed "Tail Ender," patrolled the Caribbean and East Coast waters and was temporarily part of Post War Squadron 1. She initially carried full armament; however, her assignment changed and armament was removed. Assignments included the Navy Operational Development Force and Naval Ship Research Development Laboratory in Panama City, Florida, where she performed high-speed towing work to develop specialized equipment for use in Vietnam riverine warfare operations.
In 1961, she joined her present berthmate Destroyer Joseph P. Kennedy, Jr. in Washington, DC, where each participated in President Kennedy's inaugural celebration. Although she is a Higgins boat, PT 796 was painted with the hull number "109" and towed as a float in the President's inaugural parade.
She was actively used until she was decommissioned on July 7, 1970, and signed over to J.M. "Boats" Newberry, founder of PT Boats, Inc. located in Memphis, TN. PT796 traveled from Pensacola to Memphis on her own bottom after the Navy turned her over to Mr. Newberry.
She rested in a cradle on Mud Island in the Mississippi River at Memphis until city fathers decided they'd rather not have a PT Boat museum.
PT796 went overland to Deltaville, Virginia by truck and underwent restorative work before being towed to her new home.
On August 14, 1976 PT796 arrived at Battleship Cove near Fall River, Massachusetts. "It's a great day for me and all PT boaters," the bosun's voice rang out. James M. "Boats" Newberry, then president of PT Boats, Inc. and once chief bosun of Ron 9, spoke to a crowd of thousands assembled to welcome the Higgins to Battleship Cove. PT796 was dedicated at Battleship Cove. After thousands of miles in the water the Higgins was hauled out and placed on a concrete pad for several years. Later it was moved under the protection of an authentic WWII-era Quonset where she continues to be exhibited.
Today PT796 is a National Historic Landmark.
PT Boats, Inc.
P.T. Boats Inc., was founded by Jimmy "Boats" Newberry, a prominent Memphis, Tennessee businessman and former World War II - P.T. boat veteran. P.T. Boats, Inc., was chartered in 1967 as a nonprofit historical & educational corporation and is approved by the Internal Revenue Service for tax deductible contributions.
This organization, prior to incorporation, started out in 1946 as a hobby and a way that Mr. Newberry could keep in touch with former squadron (RON 9) members. He started a mimeographed Christmas letter to keep his fellow friends abreast of matters of interest about other squadron members. To his surprise other PT veterans heard about this and wanted to be included. Before long this Christmas letter became a 20 page newsletter "PT Boat All Hands Newsletter" with a mailing list of thousands.
Prior to formally incorporating, Mr. Newberry found that official naval sources, including the Naval Museum, had retained very little pertaining to PT boats. So he started a drive through his newsletter to commemorate the boats and their crews, the response was so great that P.T. Boats, Inc. was formed.
Today, an active group maintain the corporate office and aid members and others with requests. They maintain the donated history files, drawings and between 8,000 and 10,000 photographs ("Please see Save The Photos Program") as well as answer questions and produce the biannual newspaper "The PT Boater" for over 7,500 PT boat veterans and other members. They also arrange, coordinate and manage a yearly reunion of PT Boaters from across the world.
Battleship Cove
PT796, PT617, and the National PT Museum on board Battleship Massachusetts represent the world's largest collection of PT artifacts and memorabilia. The world's only restored pair of PT Boats, PT617 and PT796 are two of five National Historic Landmarks on exhibit at Battleship Cove, the world's largest collection of historic naval ships.
PT796 is owned by PT Boats, Inc., headquartered in Germantown, Tennessee.
P.T. Boats, Inc., is a 501(c)(3) historical nonprofit organization established by veterans of WWII PT service to preserve the history of Patrol Torpedo Boats, their shore bases and tenders ships, and the men who manned them.
Headquartered in a suburb of Memphis Tennessee, this organization keeps alive the history of P.T. boat service through collections of artifacts, books, documents, blueprints, manuals, photos and film.
Over one hundred books either mentioning or exclusively about PTs have been collected along with other naval references.
The collection focuses on WWII P.T. boats in the United States Navy; however, limited information has been accumulated about foreign coastal and patrol craft, including a small amount about the Korean and Vietnam-era patrol craft.
Archives at national headquarters are open by appointment. Some searches can be done by staff if questions are specific and a copying service is available for a service charge. Additionally, souvenirs such as T- shirts, caps, battle charts and videos are available by mail, as are lists of blueprints and line drawings especially useful to model builders.
PT Boats, Inc., also maintains the PT Boat Museum and Library at Battleship Cove in Fall River, Massachusetts. Where over 4,000 square feet is devoted to 43 commissioned squadrons, some 80 bases and 19 tender ships, including two completely restored P.T. boats. P.T. Boats, Inc. also publishes a fifty page magazine twice a year.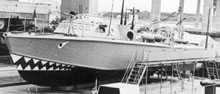 Credits