Pre Mall Opening Advertising
A Story To Keep Up With - October 7, 1981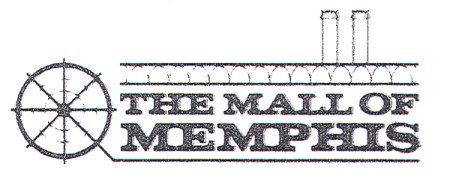 The malls original logo was a riverboat design (above) that spelled out "The Mall of Memphis - A story to keep up with". The slogan was unfortunately ironic in hindsight. The riverboat theme was thankfully dropped and replaced with the stylized "M" logo and theme color used on this site during a mall facelift in later years. Tied into the original riverboat theme in one of the first mall ads, these characters are introduced in the ads by "Captain Crockett" of the river steamer "The Mall of Memphis". We never see him, but he introduces himself with:
"My grandaddy brought one of the biggest merchant steamboats into Memphis in 1891. She was loaded down with the latest fashions, inventions, entertainment and food. Grandaddy was not only a well known riverboat captain, he was also a champion yarn-spinner, a teller of tales featuring amazing people and animals from these here parts. It's a hundred years later and now I get to pass on Grandaddy's stories."
One wonders if the ad agency ever caught on to the fact that clichés like Memphians saying "these here parts" were both tired and insulting, even in the 80's.
The mall ad characters include:
Owl: Olivia de Owl - a smart shopper.
Snake: Cora Cottonmouth - a charming delta snake that loves jewelry.
Horse: Stan Stallion - a gentleman clothes horse.
Peacock: Penelope Peacock - knows all about high fashion.
Centipede: Cindy Centipede - mall expert on shoes.
Frogs: The Ribbet Brothers - they know all about great gifts and housewares for your "pad".
Alligator: Al E Gator - lives for fine food and entertainment.
There was no mention of useful information, like the actual stores scheduled to be in the mall, except for a blurb at the bottom of the page reading "Featuring Dillard's Department Store".
I don't remember seeing these characters used much if at all in the daily advertising life of the mall. Perhaps it was realized how tripe they were and dropped.
If someone knows the actual "plan" behind this ad approach, it would be a welcome addition to this page.